Woodworking
Over the last 4 or so years I've gotten into doing some amateur woodworking! Mostly I like building furniture (exclusively for my own use so far) and because I'm an amateur with a basement "shop" it's mostly plywood-based and relatively simply designs.
Projects
Here's the various projects I've done to date! All are personal (so far)
Coffee Table (~2019)
The first and the simplest! Or rather, simplest in theory if I'd learned anything before trying to make it. It's a 2'x4' 1/2" plywood project panel, with a little brace of sorts made out of 1x3 pine, stained in dark walnut, finished with water-based polyurethane, and using some hairpin legs from Amazon.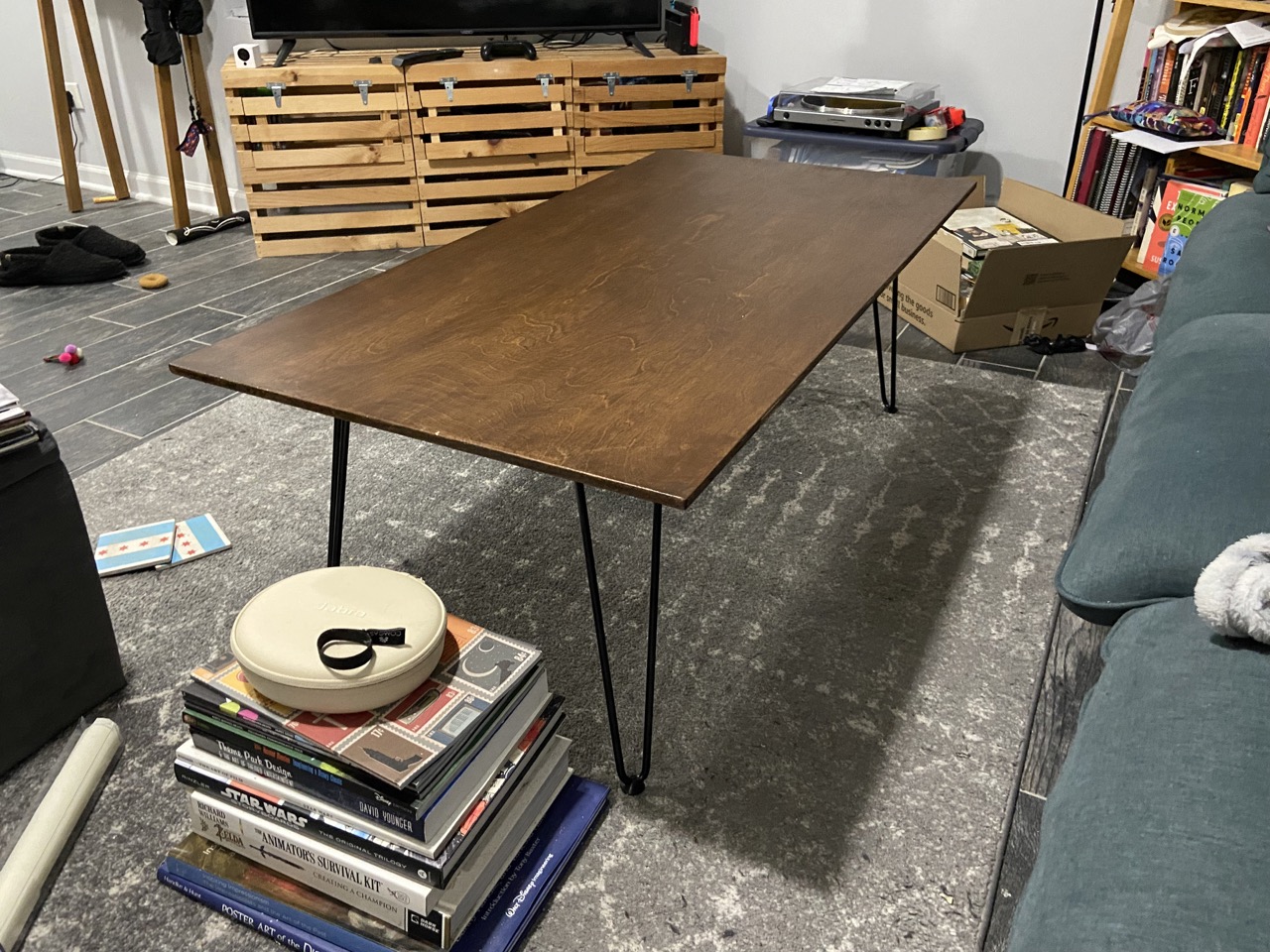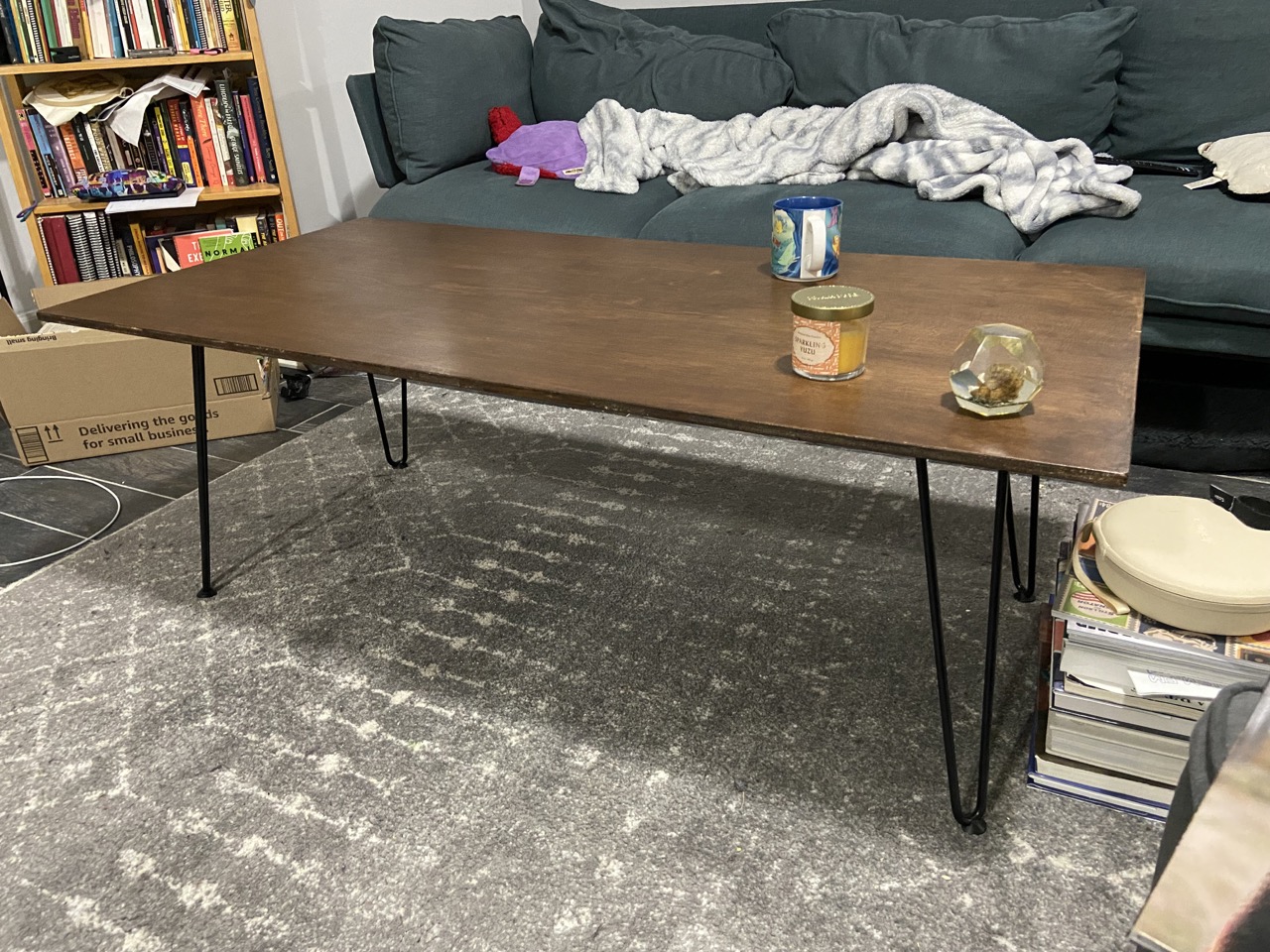 Many things to learn from this! Such as:
screws and glue being better than nails (which I started using, horrifically enough started by trying to nail the brace from the top which left an ungainly finish nail head forever)
staining raw plywood edges looks bad, or can if not done carefully and intentionally
hairpin legs actually work out really well, especially for the price
3/4" plywood should be a good baseline for anything that needs stability
sand more carefully (or, spoiler alert, use a random orbit sander) or you'll get visible marks that never go away, especially after staining
How to stain and finish
Finish-wise, I like water-based polyurethane
I kept this until I scrapped it prior to moving in 2022.
Modem/Router/Printer Cabinet (~2019)
More pine and plywood furniture, in this case because I needed something to put my router and modem and printer into and wanted a place to store my ungainly powerstrip where my cat wouldn't mess with it.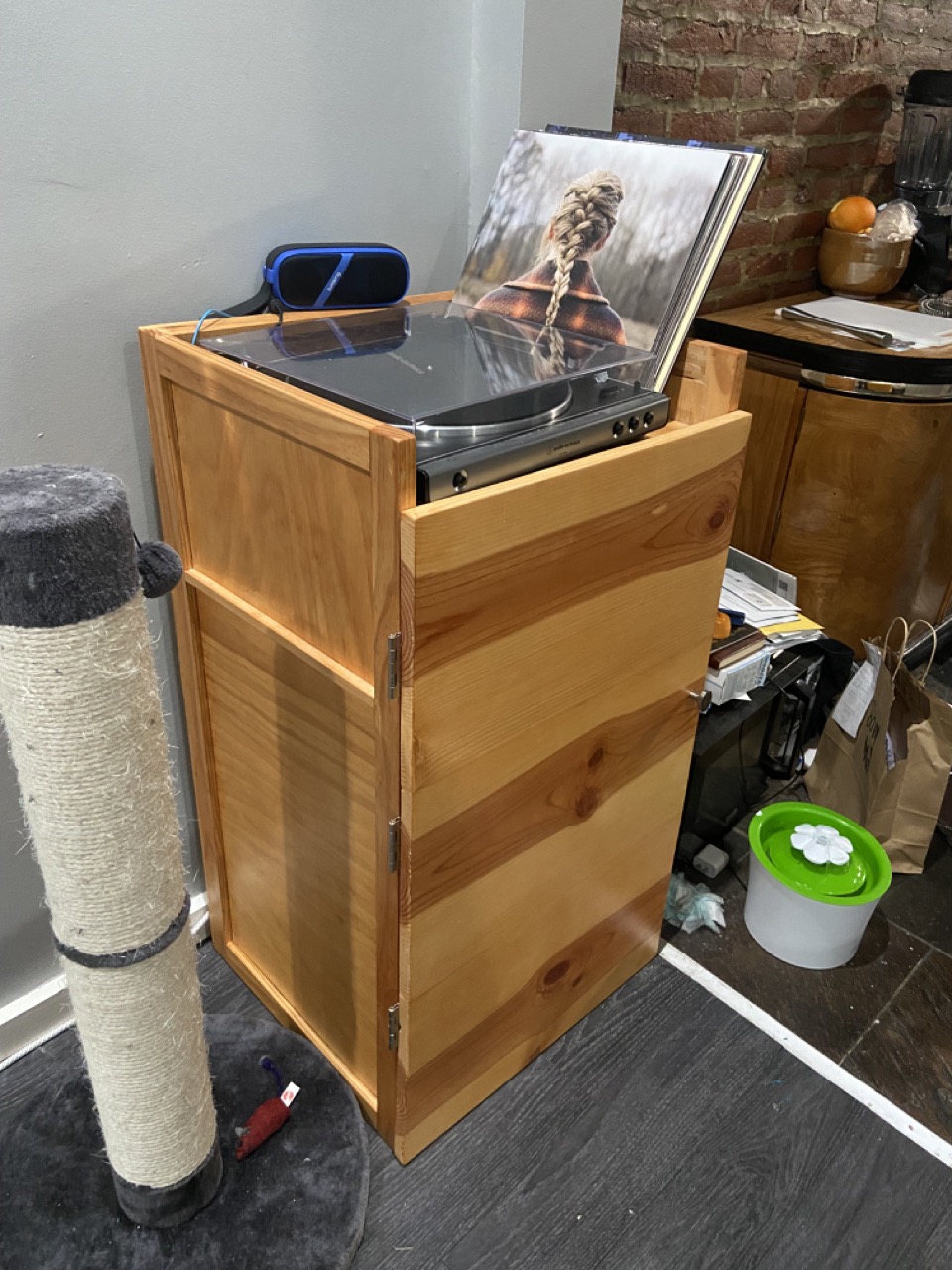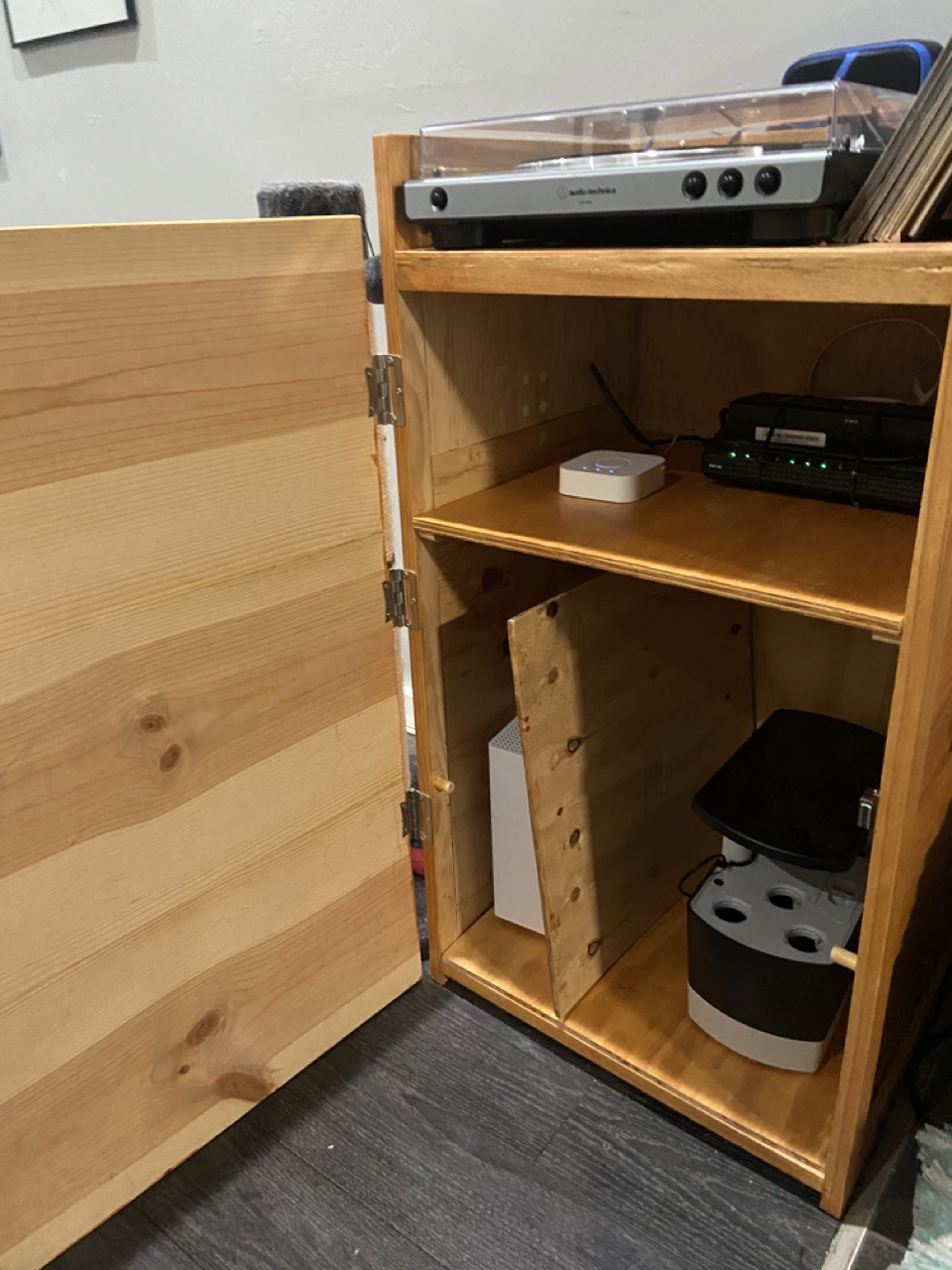 Learnings!
How to use pocket holes, and that they need to go into the bulk of the wood even if that's less aesthetically pleasing
Chiseling rabbets
Plywood has a rough side and a finish side, and the finish side should go out
That I don't love combination stain + poly, and prefer doing them as separate steps
How to make panel joints
How to hand-plane
How to (poorly) hand-saw plywood and hardwood
How to use a flush-trim hand saw
How to use a random orbit sander
How to use flush-mount hinges
Doors to cabinets should not be flush with the floor, so they don't scratch against an uneven floor as you open and close them
This is still in use as of writing.
Entry Table (~2020)
This was one of my first projects of opportunity, in that I lived in a one bedroom apartment and had leftover scraps from the printer cabinet project, and decided to make a cute, albeit not particularly structurally sound entry table. This used a combo of the leftover stain + poly from the printer cabinet, and danish oil for the legs.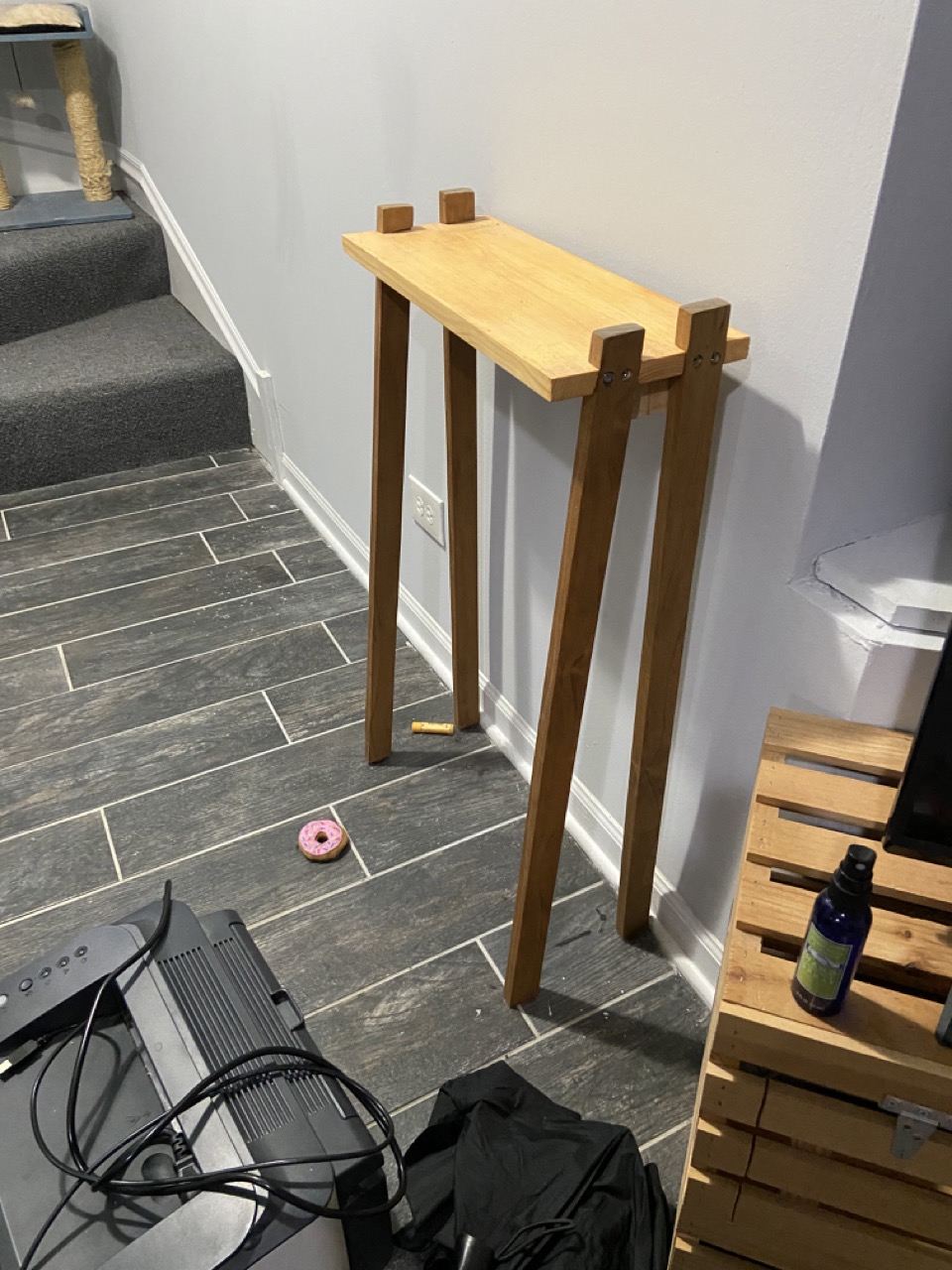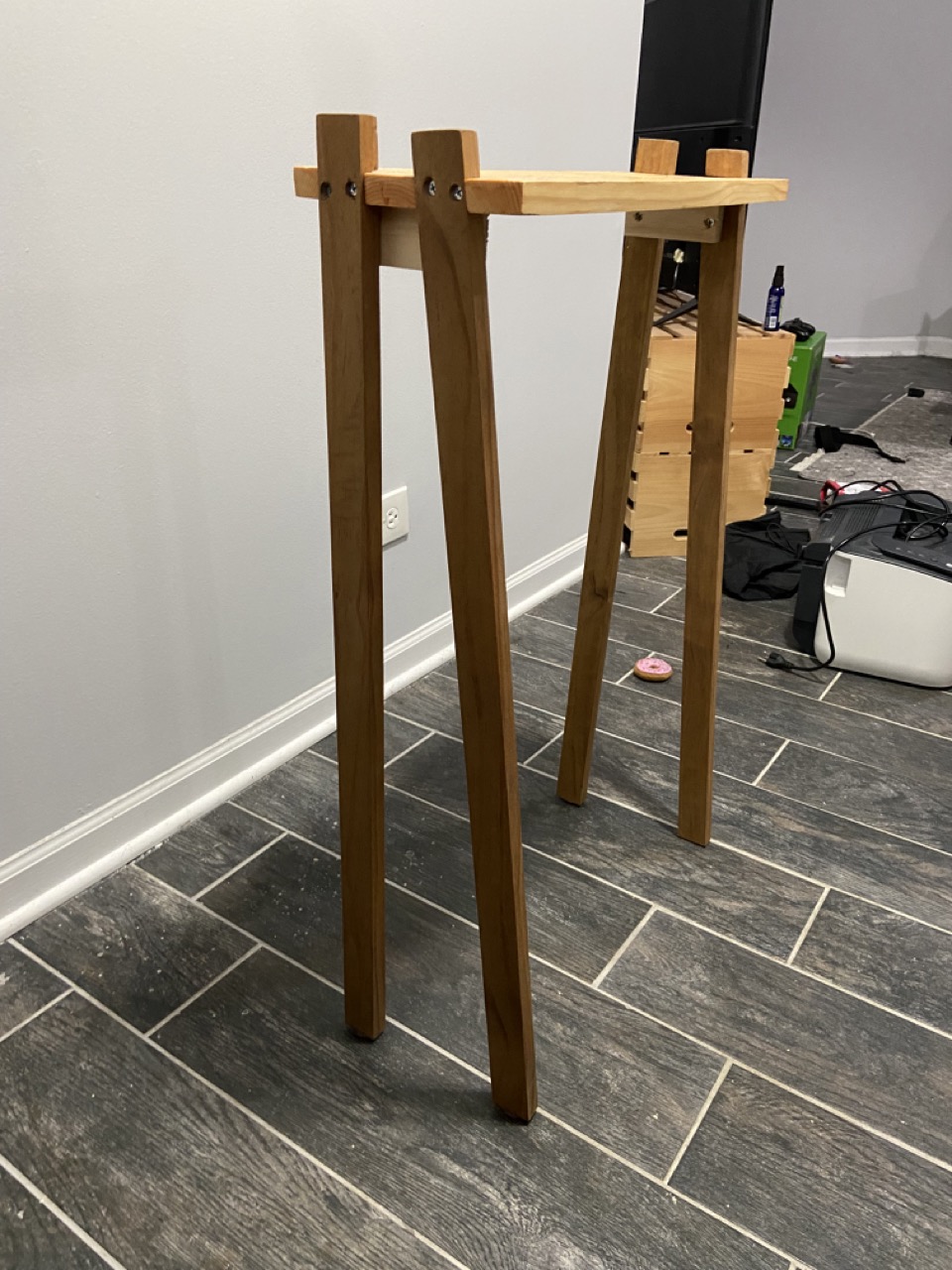 Learnings!
How to (poorly) chisel half-laps
How to (poorly) do angled legs
How to use Danish oil (and that I like it more than stain + poly, but less than water-based poly)
I kept this until it was scrapped prior to moving in 2022.
Bed (2021)
I hated my old bulky Ikea bed and committed to not moving with it, so when I moved apartments in 2021, the Ikea bed stayed behind (in the dumpster, mostly.) I did keep the slats, however. And so, I needed a bed! And built a relatively straightforward full-size frame. This was a platform frame in pine, with legs bought from Home Depot, and leftover Ikea wooden slats. It is fully unfinished (never even glued together! Just screws!)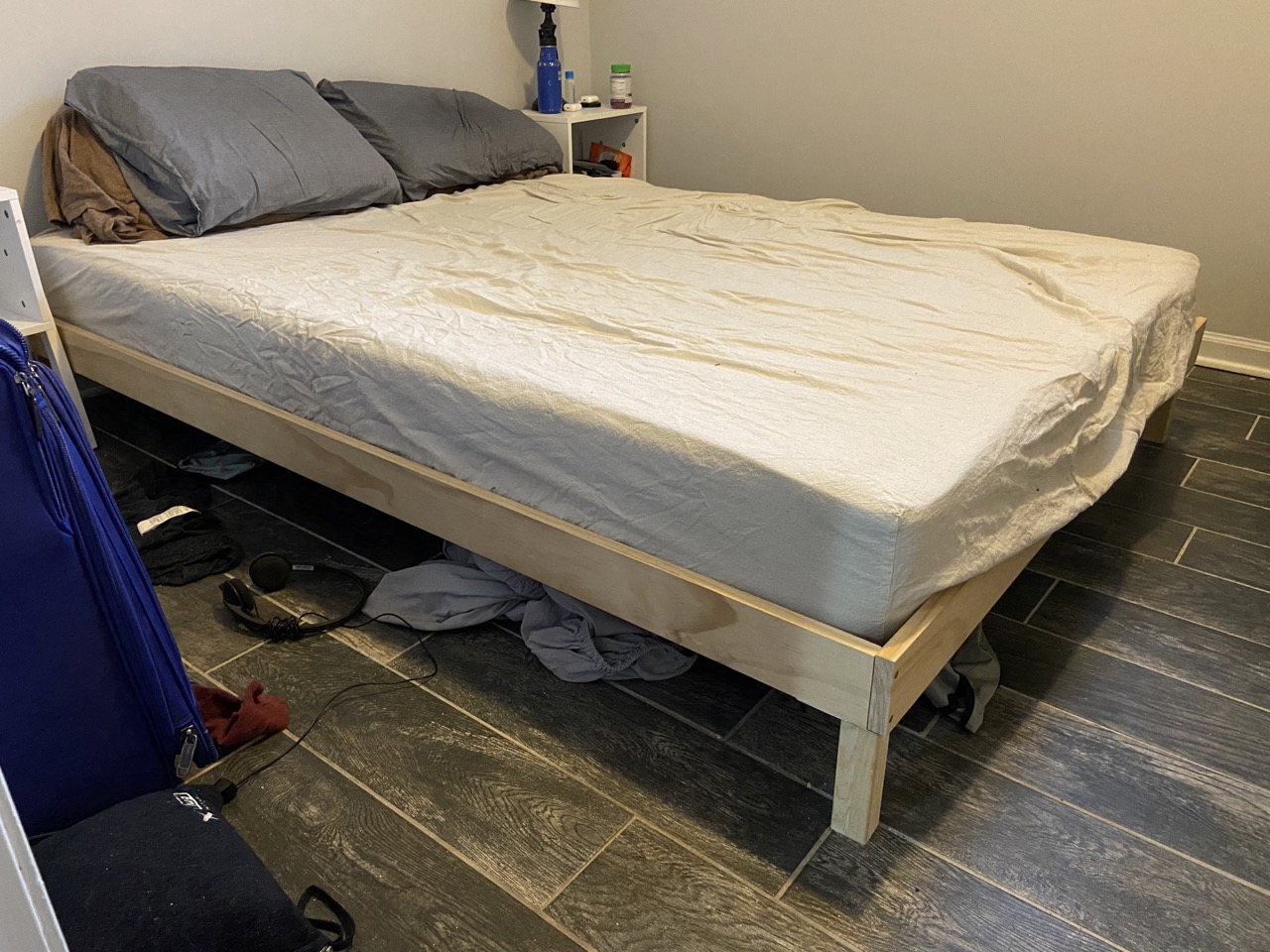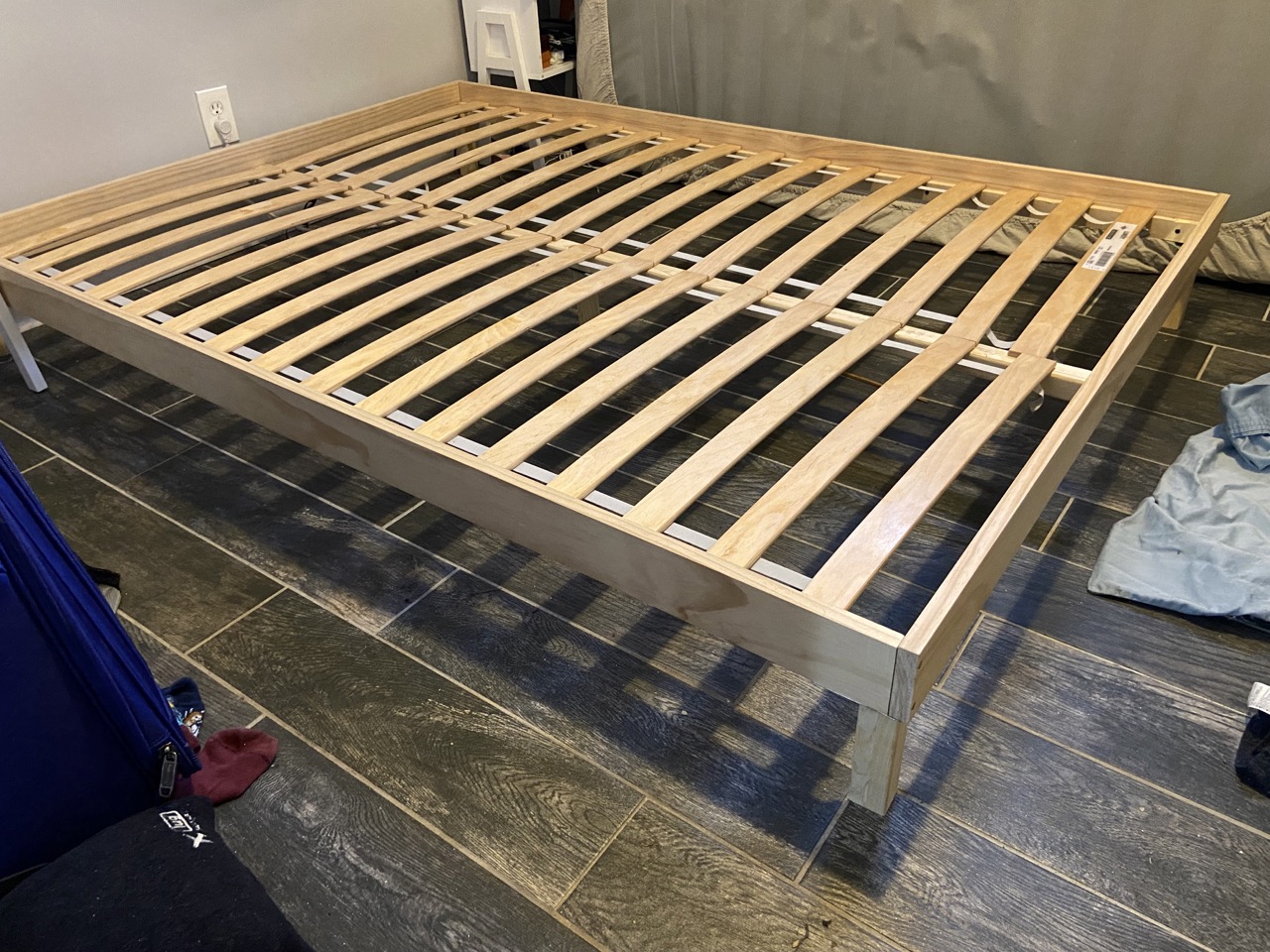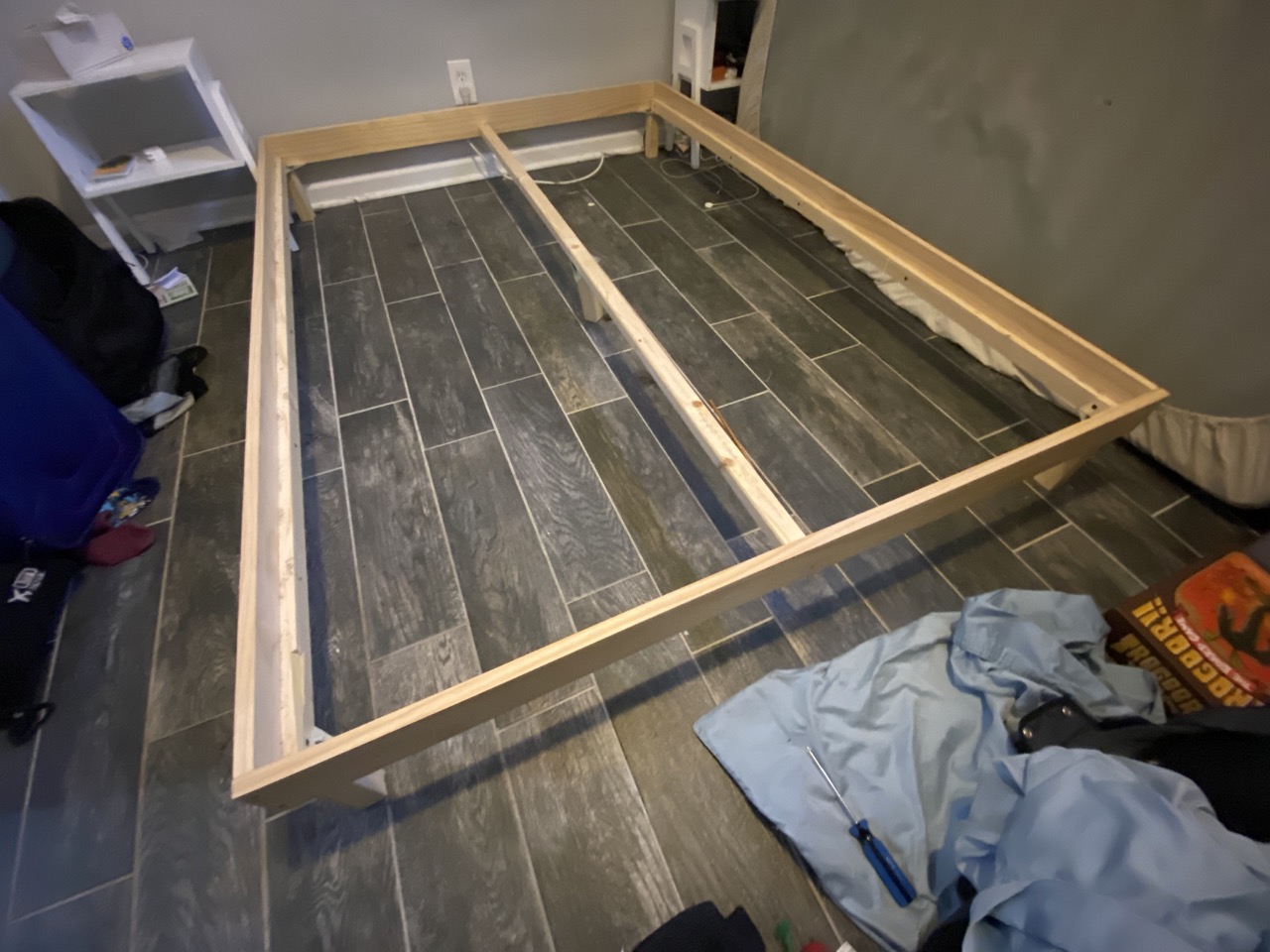 Learnings
How a bed basically works
That if you ever move a piece of furniture into its final setting for a "test assembly" and use it for more than 10 minutes without disassembling and moving it back out, it will never ever ever be disassembled, glued, stained, or finished
I kept this until it was scrapped prior to moving in 2022.
Desk (2021)
This is the first iteration of a desk that will re-appear later on the list. The desktop is 3/4" birch plywood in a 2'x4' project panel, edge banded, and stained I believe in a cherry of some kind. The legs are 1"x3" pine, stained in ebony. The whole thing is finished with water-based wipe-on polyurethane.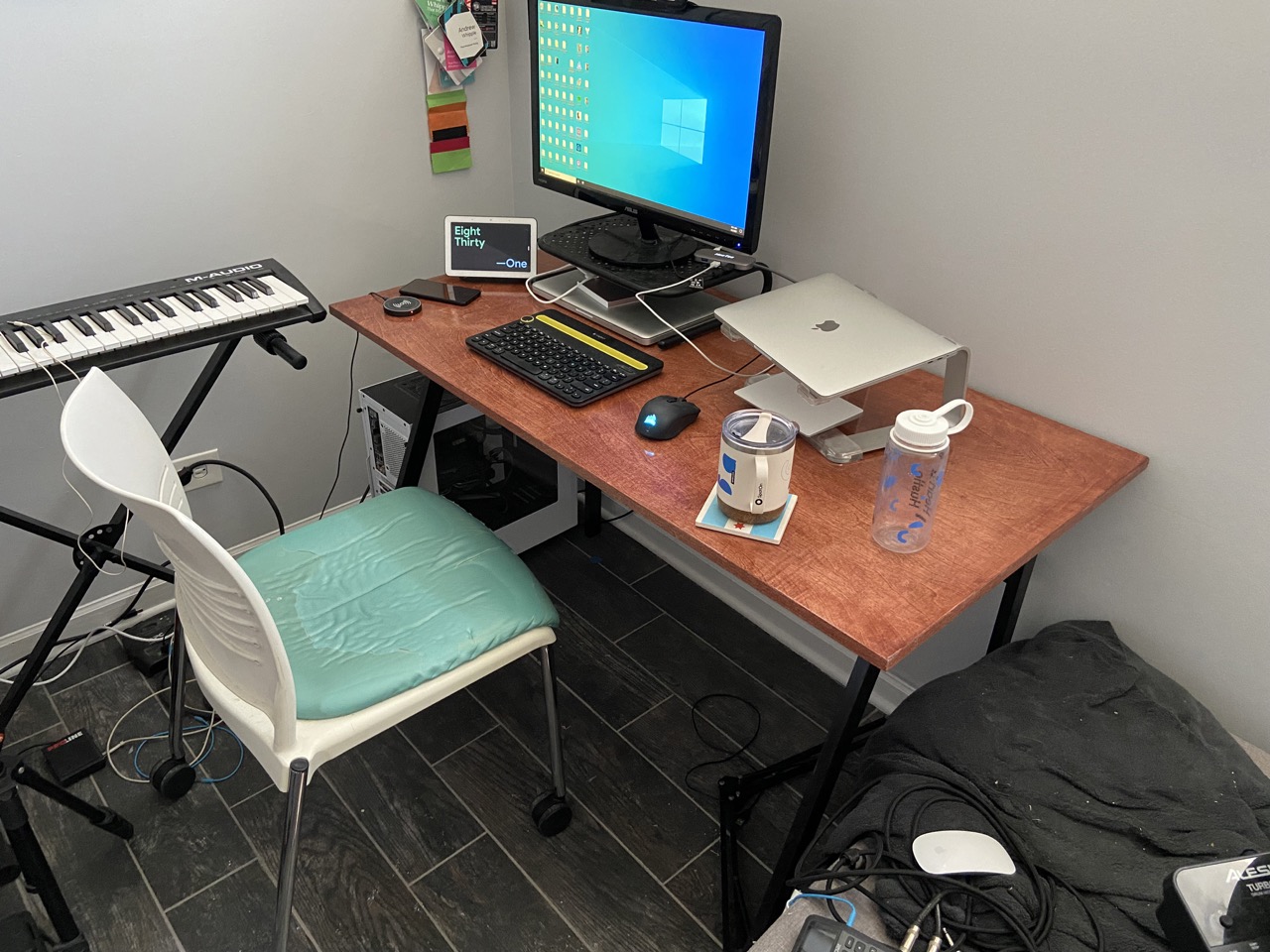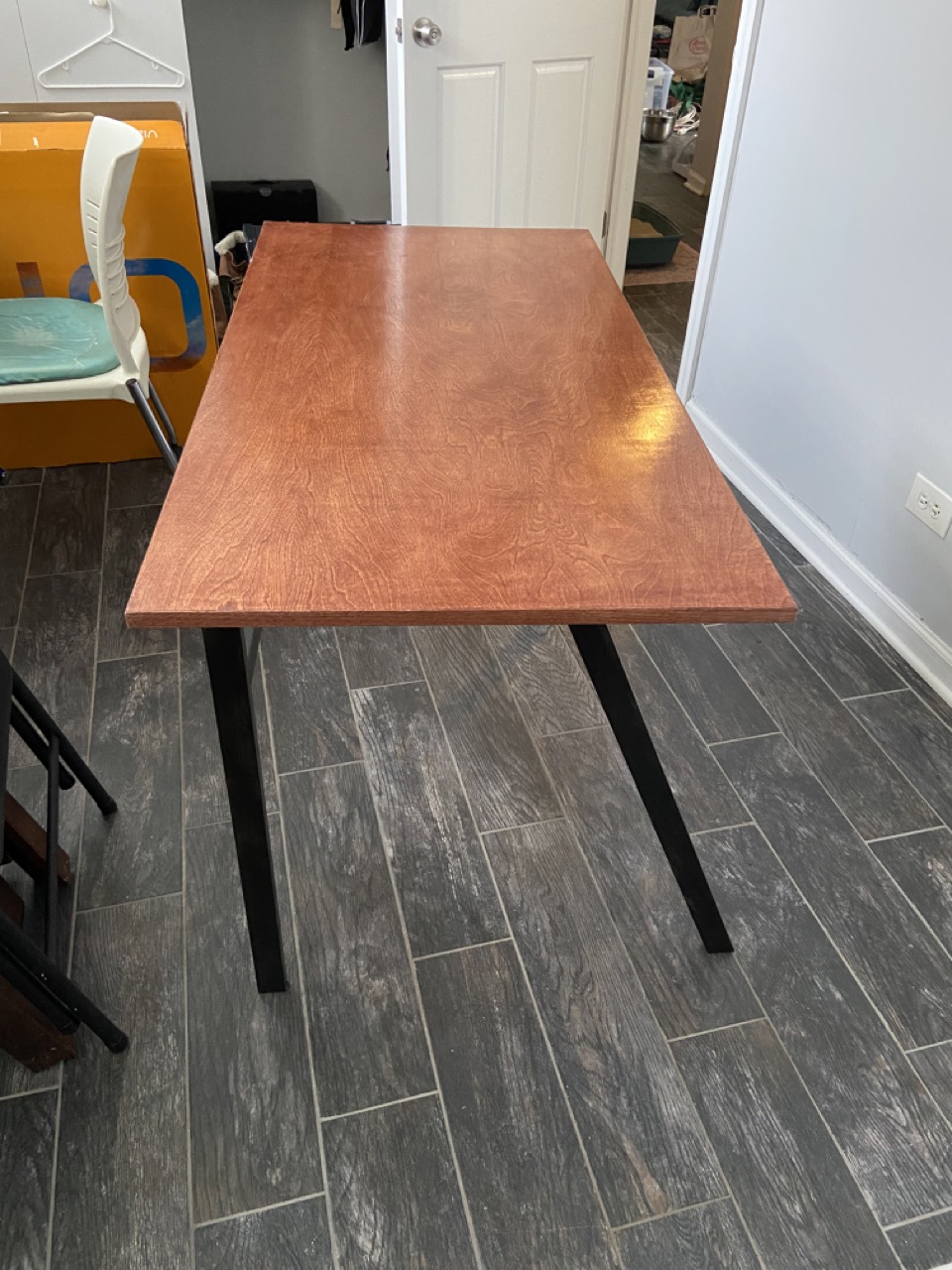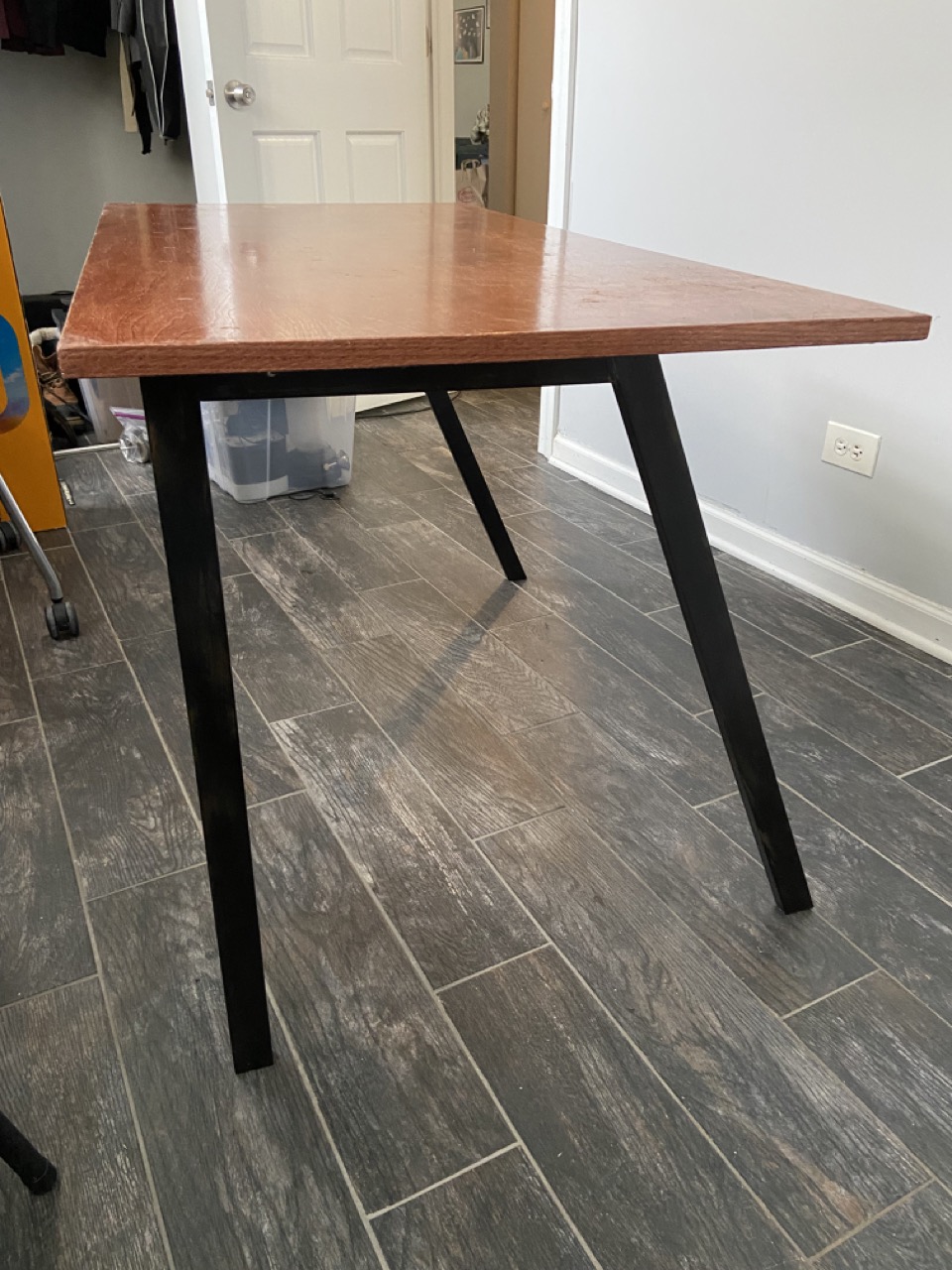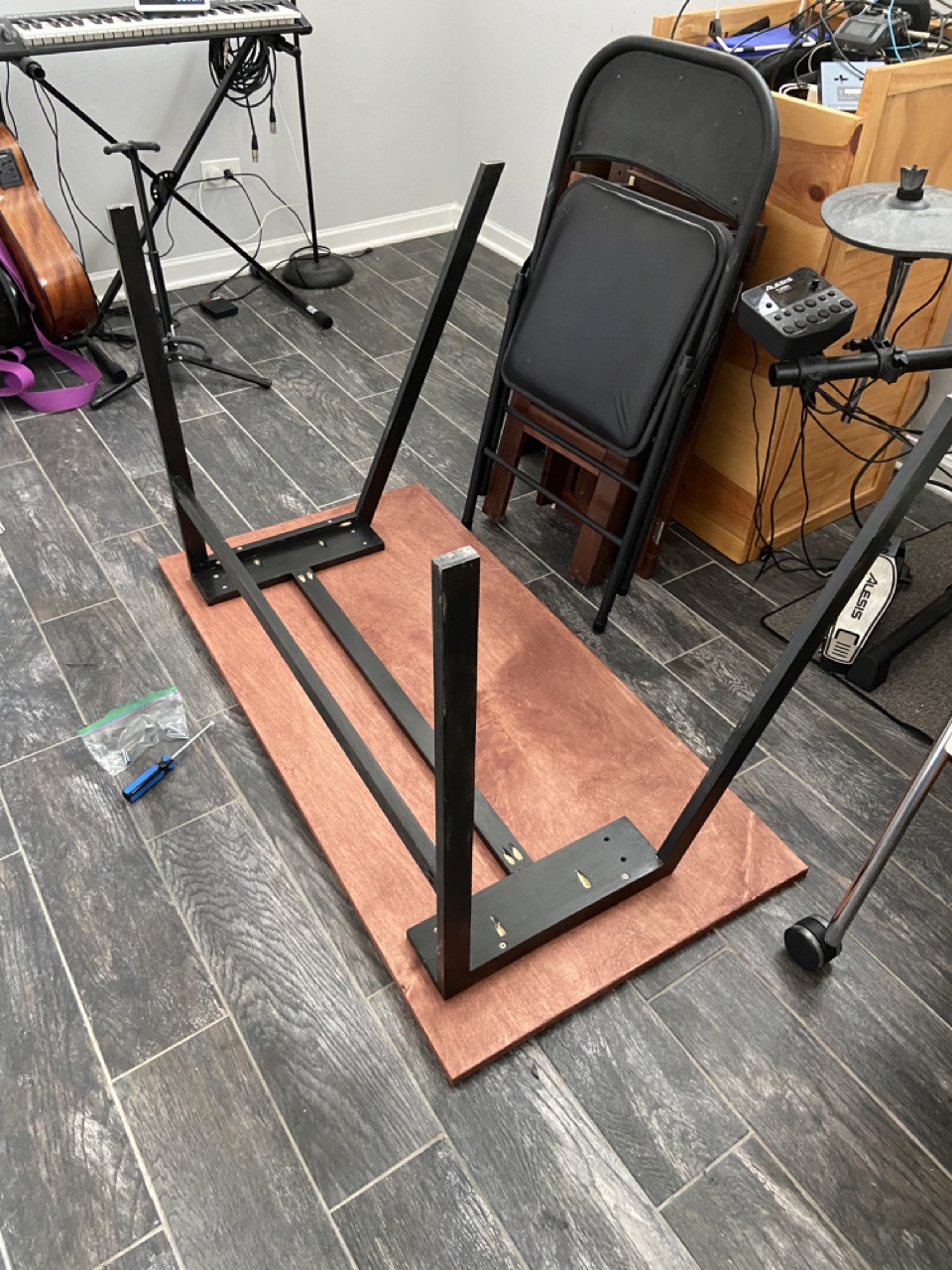 Learnings!
How to use edge banding
How to use wipe-on poly (and in the rankings, it's water-based > danish oil > wipe-on > combo stain + poly)
How to build a desk
How not to build legs, if you don't want your desk to wobble (specifically that aprons and stretchers would be useful)
The legs were detached and scrapped prior to moving in 2022, but the desktop is still in use! (Spoilers for later)
Cookbook/Tablet Stand (2022)
A little prototype (the 3rd, because the first two used a different design that failed spectacularly) for a cookbook/tablet stand I was considering making as Christmas presents. That didn't totally pan out, and I'm not thrilled with this, but it is useful! The piece is made from 1/2" red oak, finished with neutral danish oil.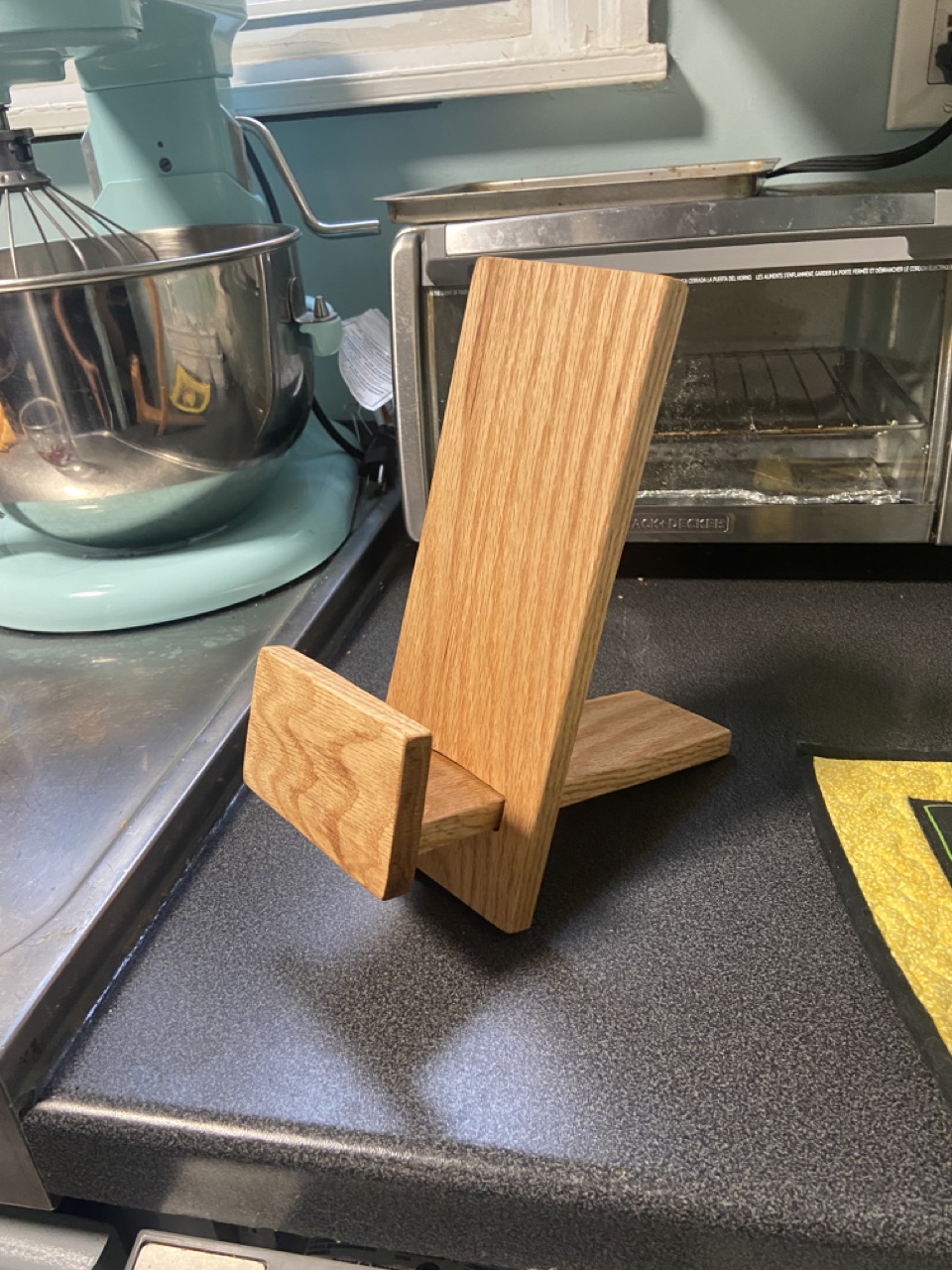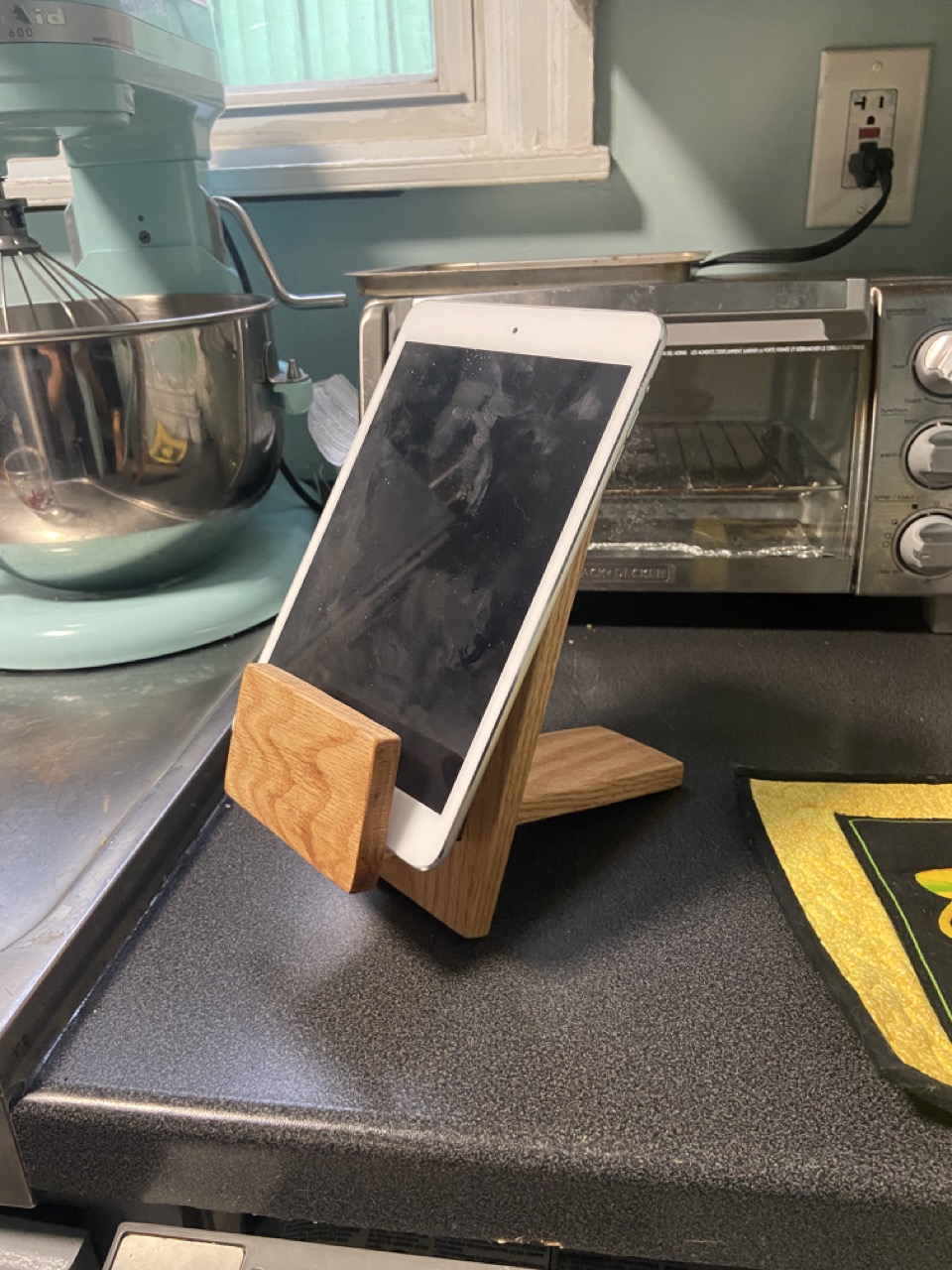 Learnings!
Start learning to use a jigsaw
How to pivot when a prototype goes disastrously
That I'm still bad at cutting straight 90° angles
This is still in use as of writing.
TV Console (2022)
We went far too long without a TV stand of some kind, instead having our tv barely off the ground on an old filled cardboard box, so this filled that void! It's an open-back cabinet, all made with birch plywood, with 3/4" for the main carcass, 1/2" for the shelf/partition/door, and 1/4" for the sliding doors on the bottom shelf. It's stained in special walnut, and finished with water-based polyurethane.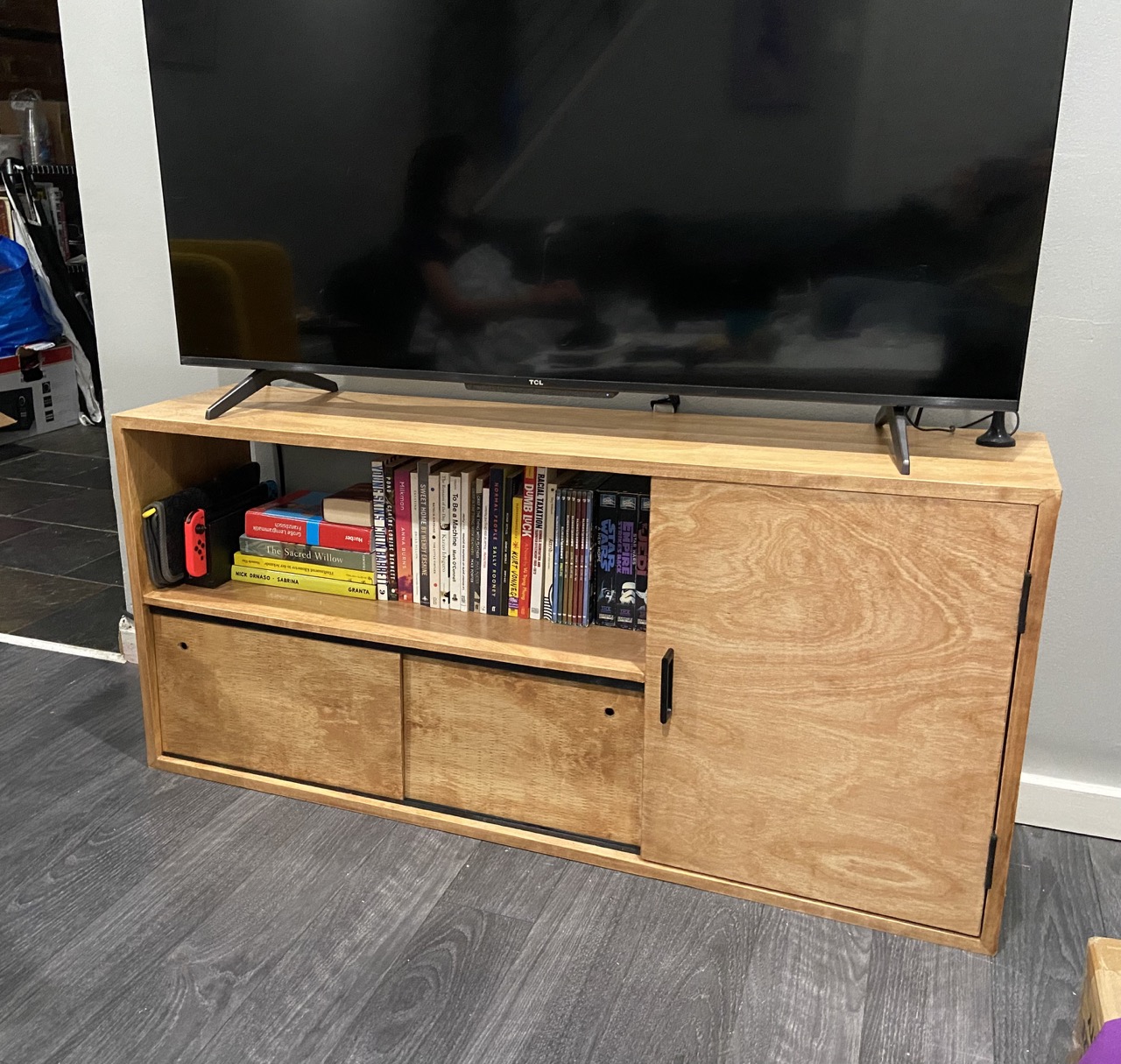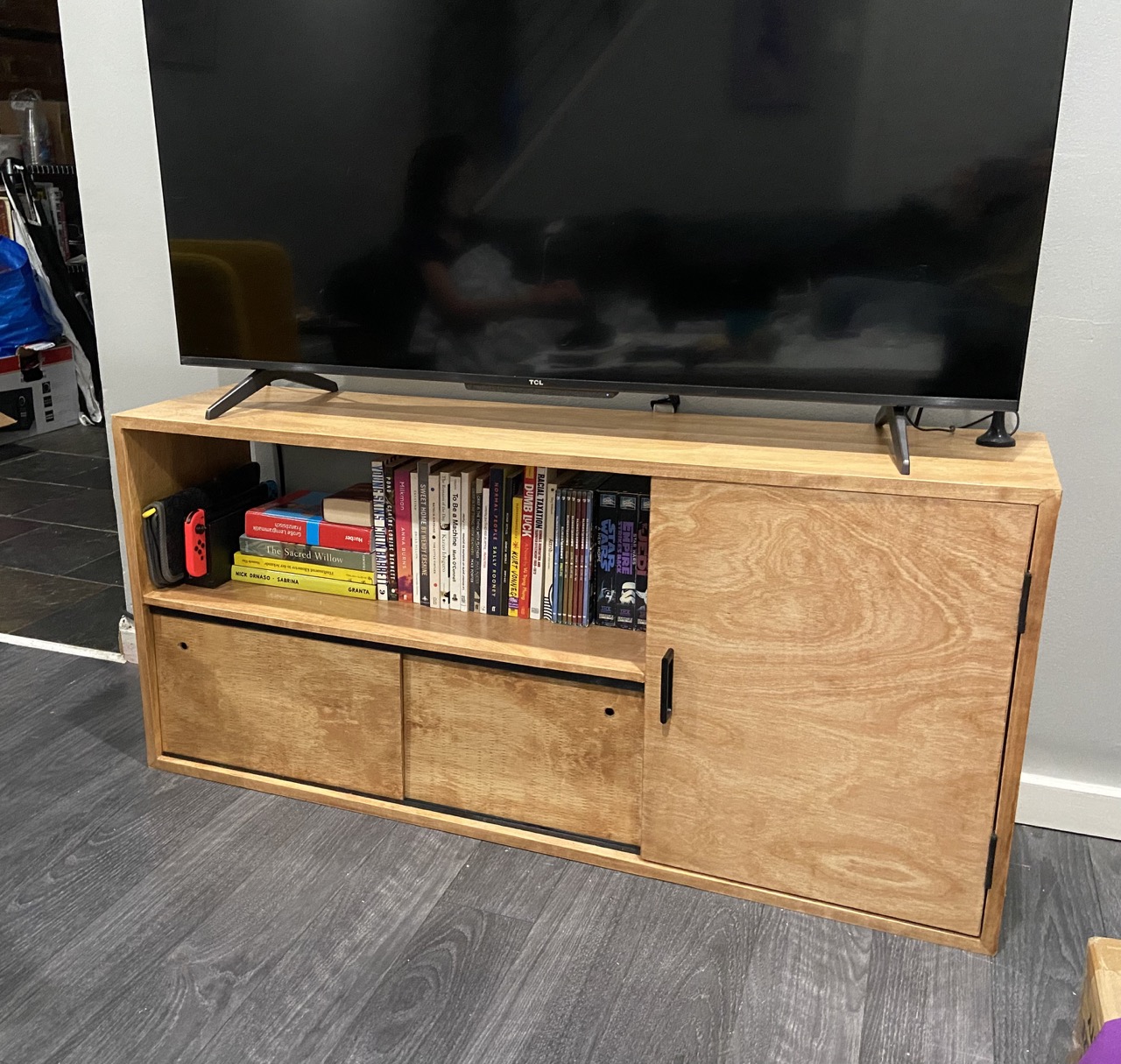 Learnings!
How to (poorly) use a circular saw
Special walnut stain is lighter than I think it is
How to use pre-stain conditioner
Faking miters with edge banding absolutely doesn't work
This is still in use as of writing.
Liquor Cabinet Refurbishment (2022)
Not strictly a woodworking project, but this was a buffet cabinet on sale for $20 at a local thrift store, primarily because the exterior finish was bad and there was tons of water damage on the MDF on the inside. This was a so-so restoration, but did end up cleaning the piece all over, fully refinished the top, repainted most of the trim, sanded off the water damage from the base and interior shelf, "refinished" the interior shelf with black vinyl and the base with black paint and black felt, and re-hung the loose door. And all in all it makes a pretty okay little liquor cabinet! I may do more with this in the future.
Before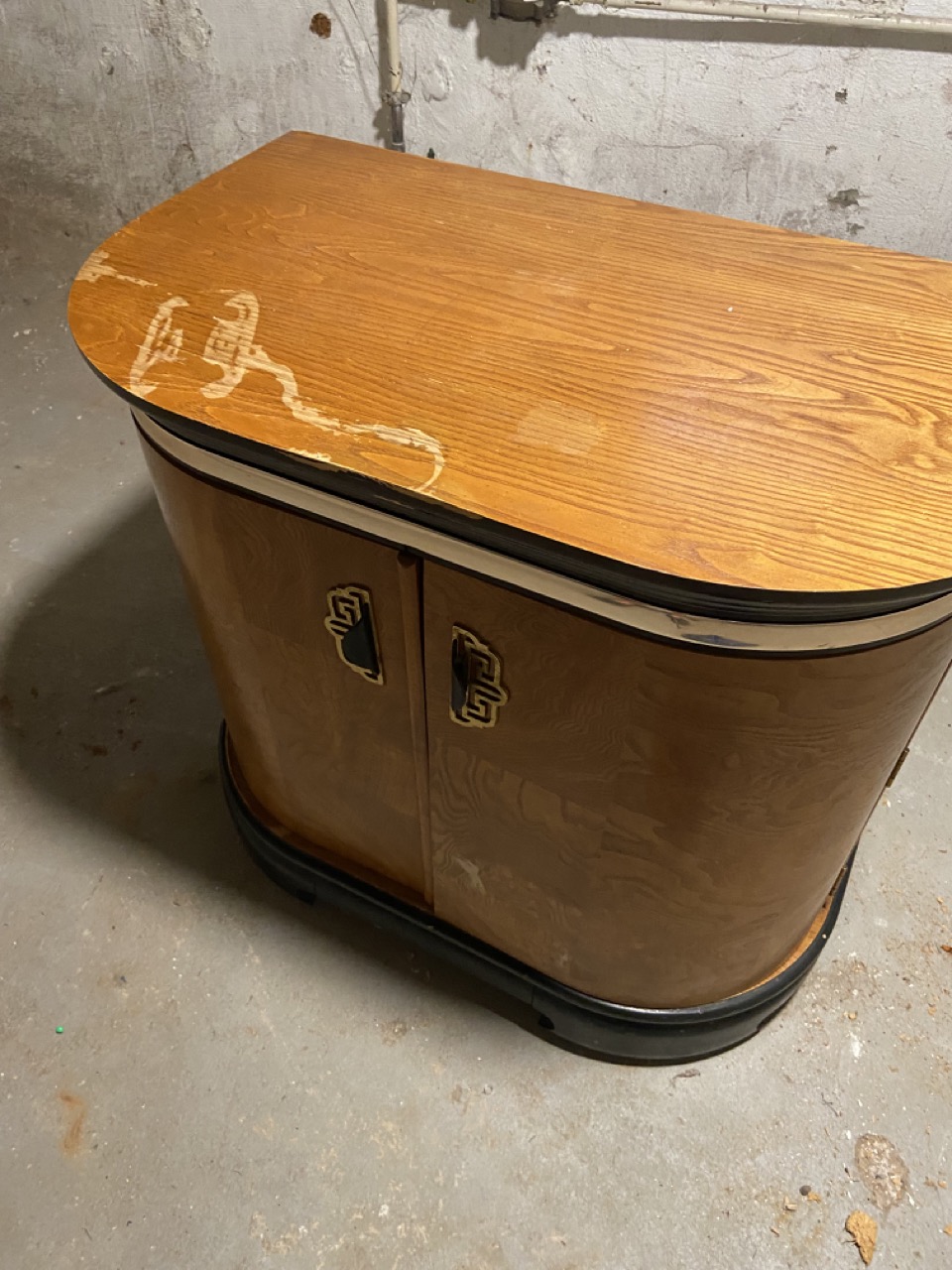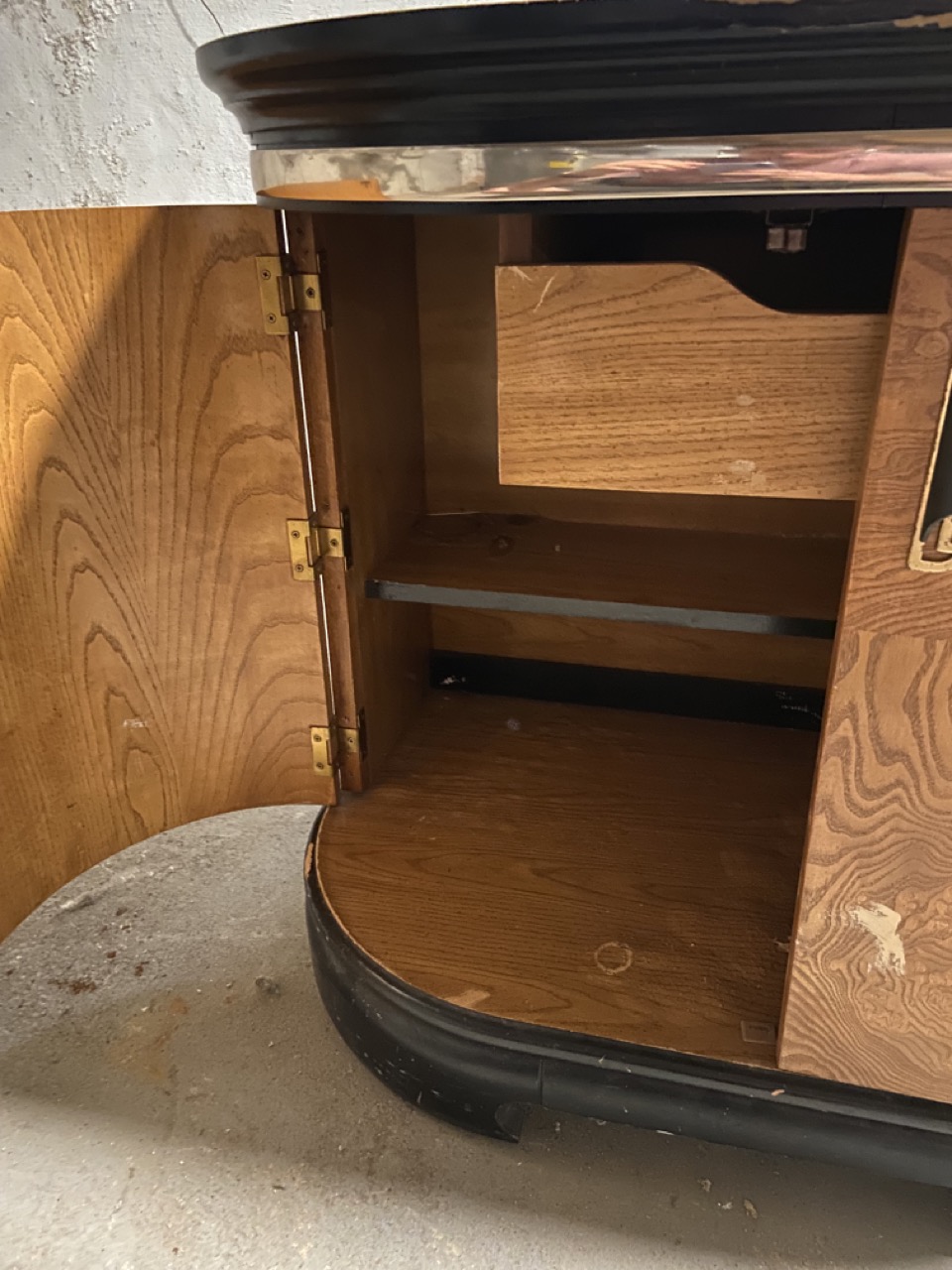 After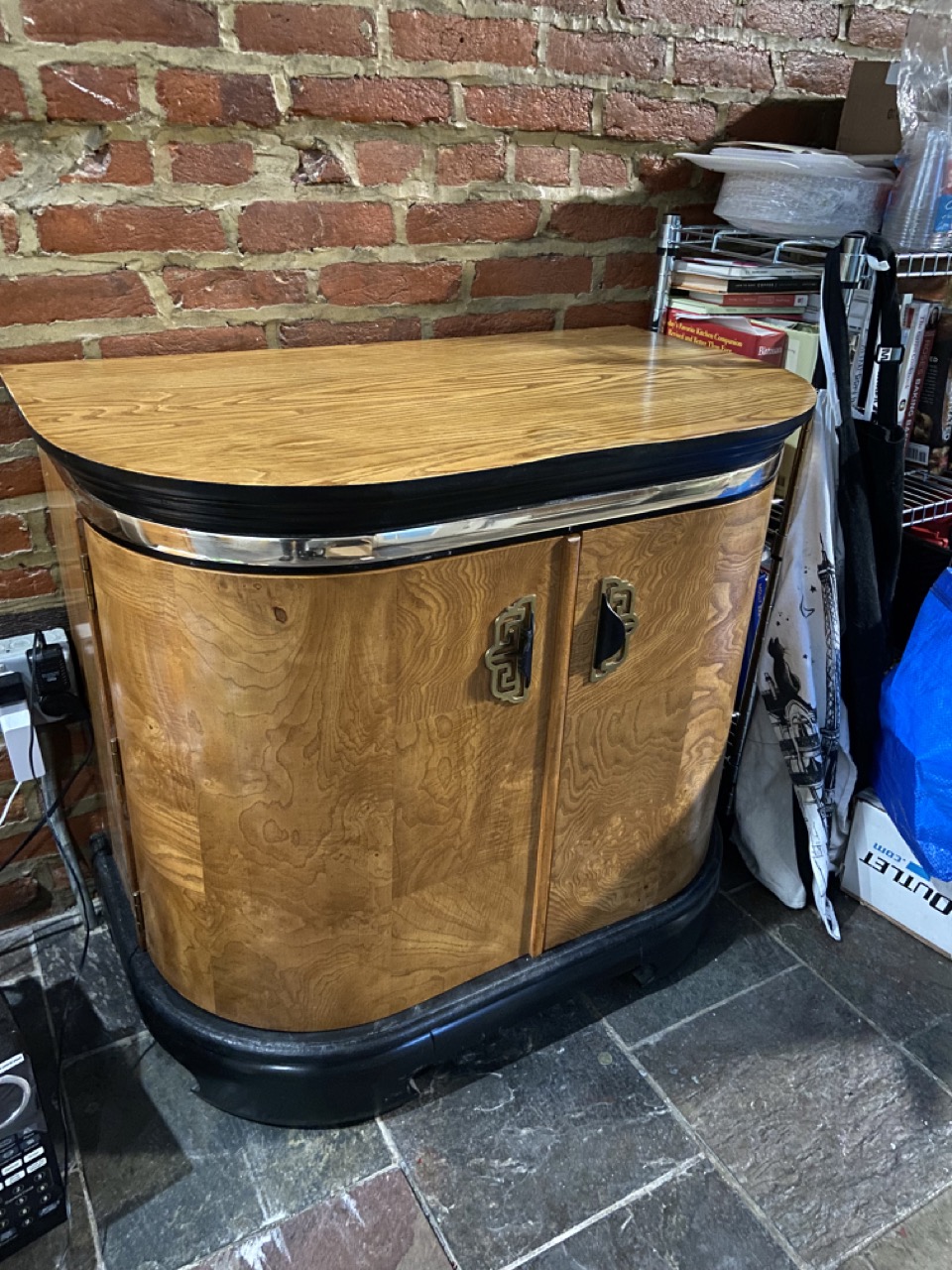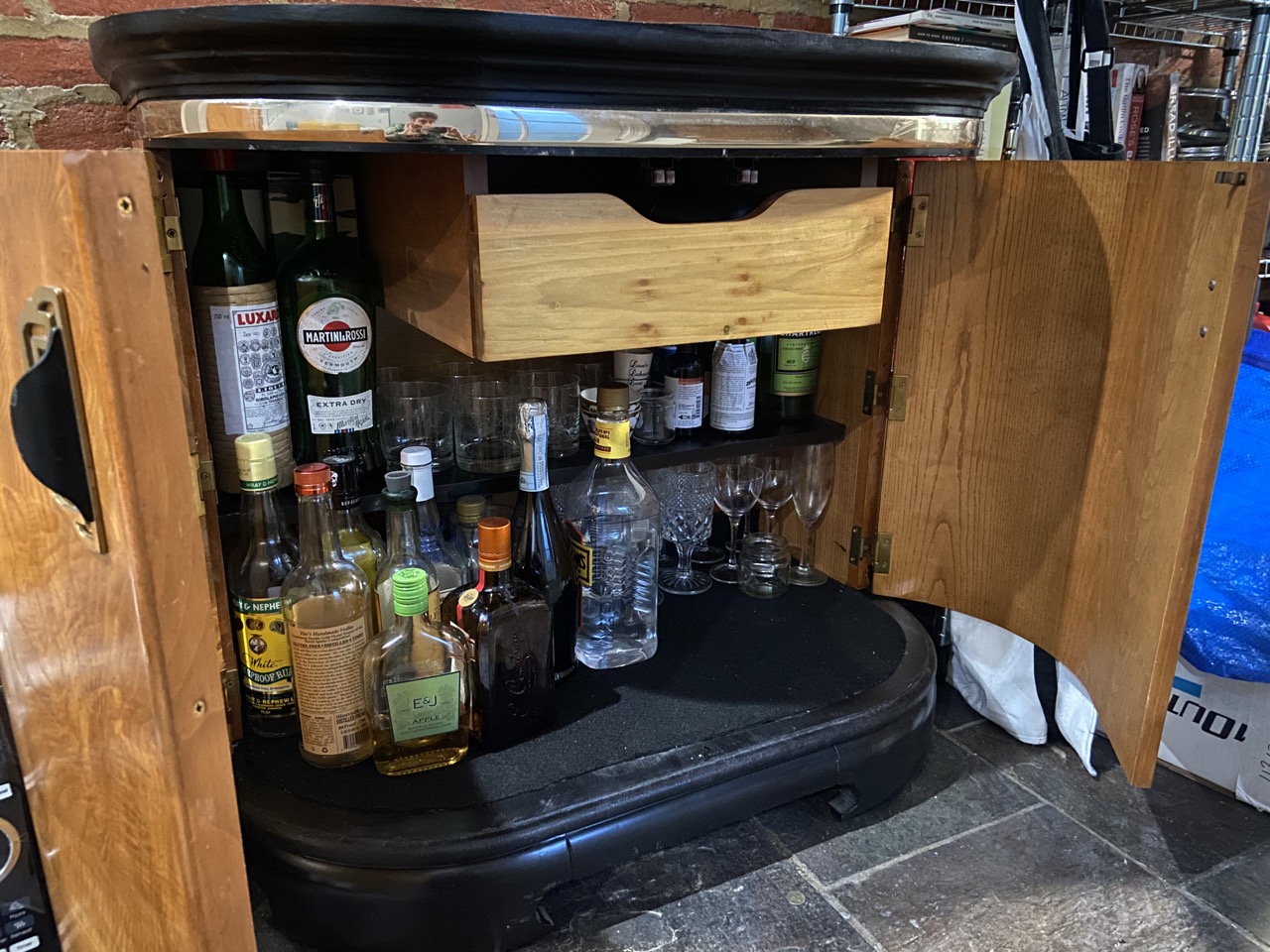 This is still in use as of writing.
Scratching Post (2022)
A little project to build a custom scratching post to hang off our stairs. This was pretty slapdash, being some offcuts of 3/4" plywood, painted with leftover black paint from the refurbishment, and wrapped in sisal rope that was hot glued and stapled to the wood.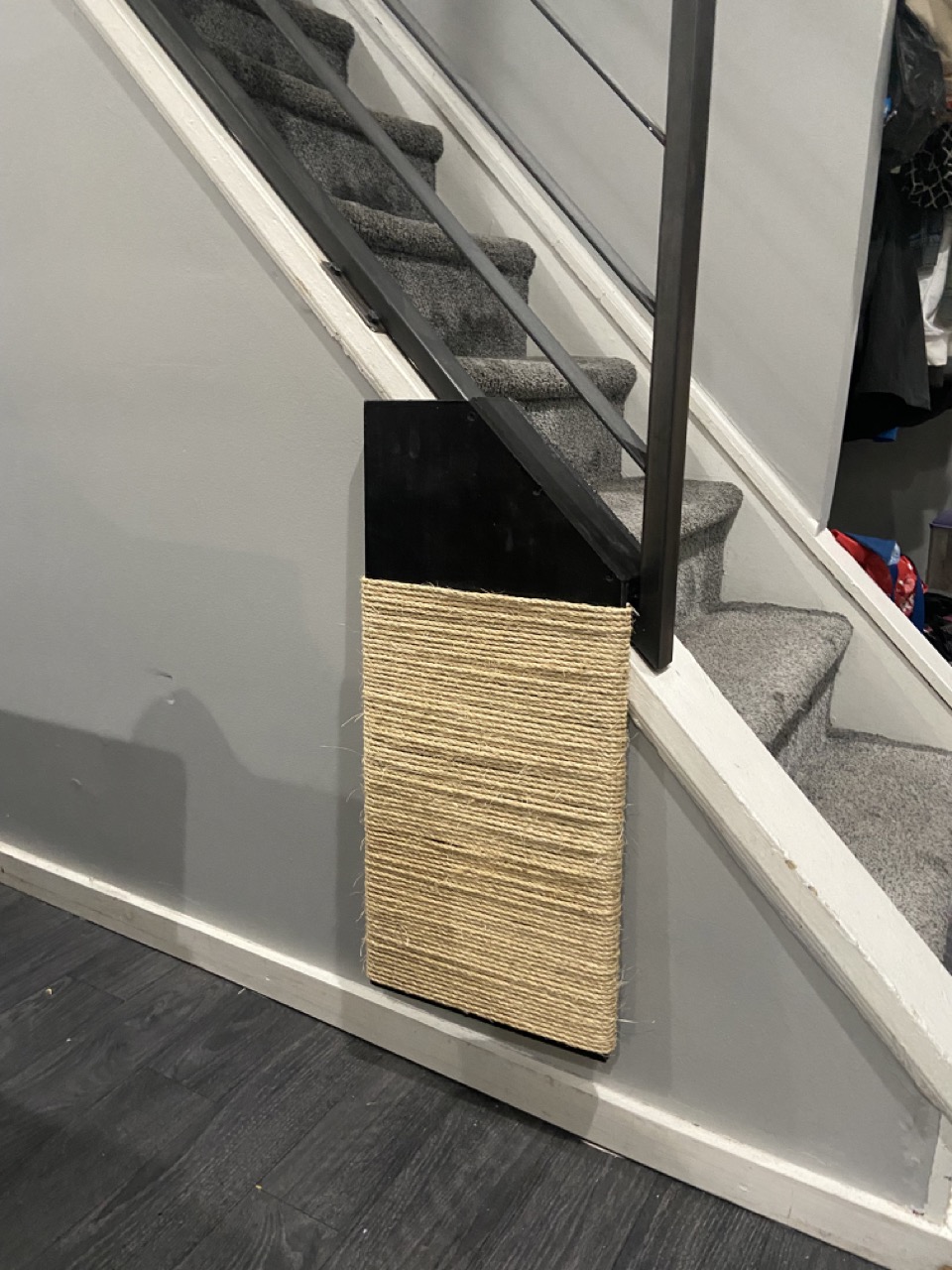 This is technically "in use" currently as of writing, but the cats have never once actually used it.
Desk Legs V2 (2022)
As mentioned above, the desktop made the move to Philadelphia, but the desk legs did not, and so new ones had to be made. And with the benefit of having done it the first time, I made a few modifications to the design:
The legs are thicker (2"x2")
The have much more substantial aprons
As both a design and a practical feature, the side aprons have cutouts for cords and such
The legs are stained in ebony and finished in neutral danish oil.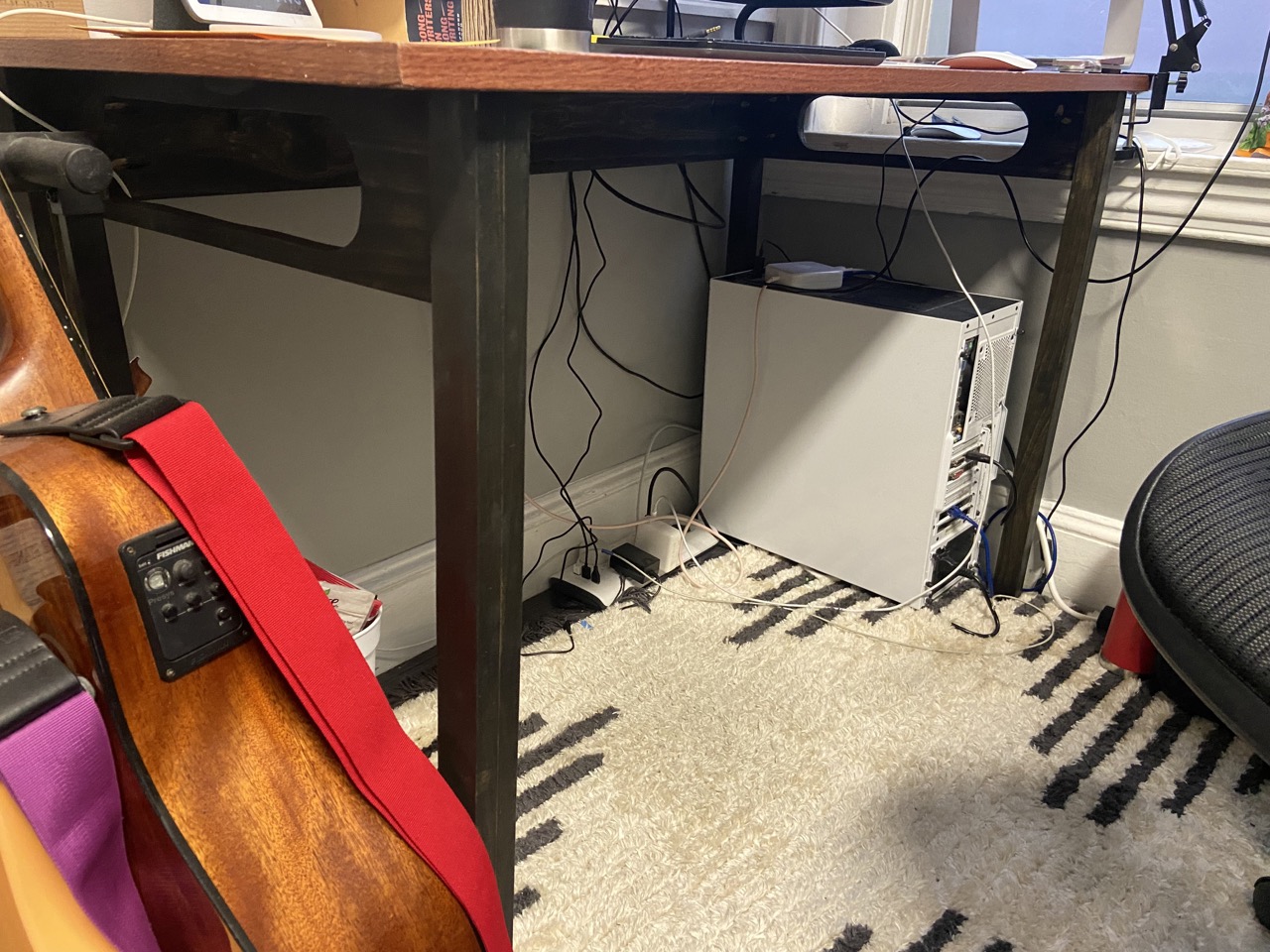 (The top is the same as before, and I didn't want to show off my messy desk)
Learnings!
How to get better at using a jigsaw
Ebony stain looks bad after the first application, but better after subsequent coats
This is still in use as of writing.
Dresser (2023)
Similarly to the TV console, for way too long post-move I did not have a dresser, instead using a combo of closet space, an old storage bench, suitcases, and honestly, the floor, as my clothing storage. This carcass of the dress is 24"x30"x18" (HxWxD) and made out of 3/4" birch plywood, joined with glue and dowels. The drawer boxes are a combo of 1/2" plywood for the boxes, and 1/4" for the bottom, with the boxes joined with pocket holes and with glue + staples to attach the bottom to the box. The drawer faces are 3/4" birch plywood with a handle chiselled and sanded from 1"x3" pine. It's stained in dark walnut and finished with water-based polyurethane. The drawer slides are bought from Home Depot.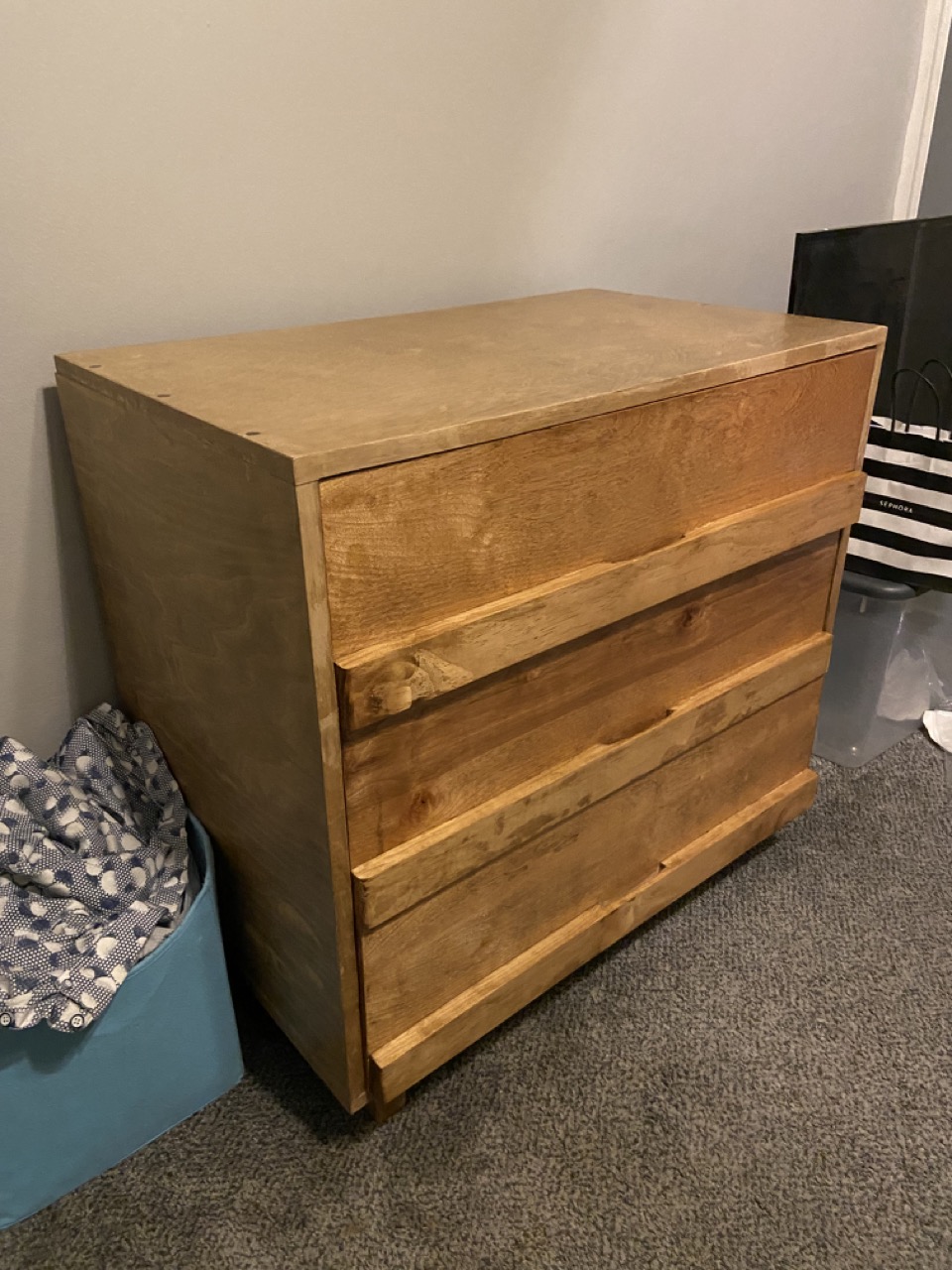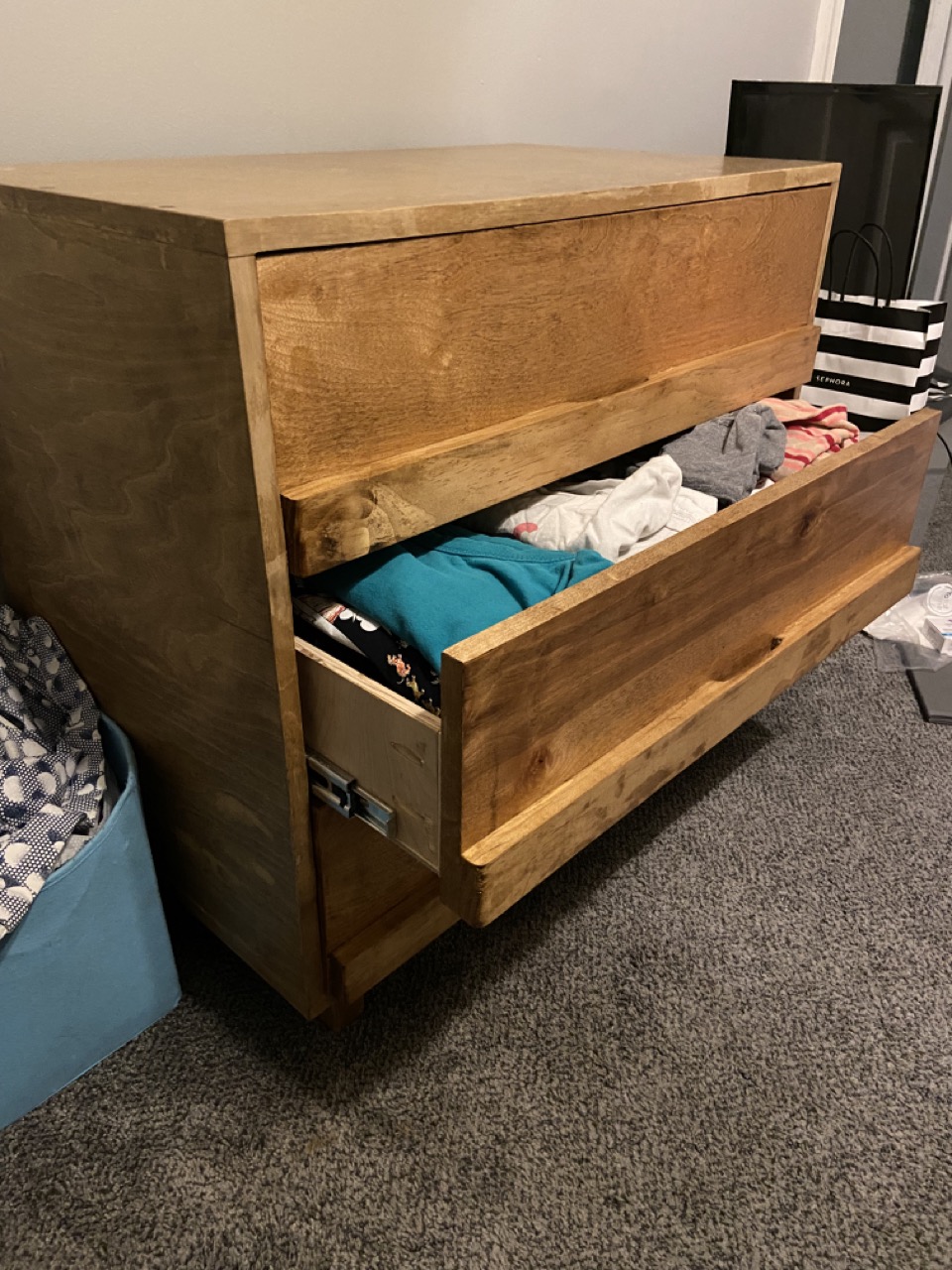 Learnings!
How to use dowel joinery/my dowel joining jig
Chisels work better for trimming edge banding than razer blades, at least for me
How to build drawer boxes
How to install drawer slides (and how to compensate for doing a bad job building and measuring the carcass + drawer boxes to fit the slides)
Hand planing long proud joints is faster and easier than trying to use a flush trim saw
A staple gun + mallet works for pinning 1/4" plywood, but a brad nailer would probably be better
A table saw or better straight edge guide should be high on my list of next investments
Design elements can sometimes help recover from sloppy proportions (in this case, drawers sitting unevenly when mounted making the drawer fronts look out of whack, which is barely noticable given the placement and size of the handles)
This is still in use as of writing.
Chessboard V1 (2023)
A prototype/first attempt at making a chessboard! This is made from red oak and maple, with the top being 1/4 inch strips of the hardwood laminated over a 1/2 inch core of plywood, and then the edge made from red oak. The whole thing is finished in danish oil in natural.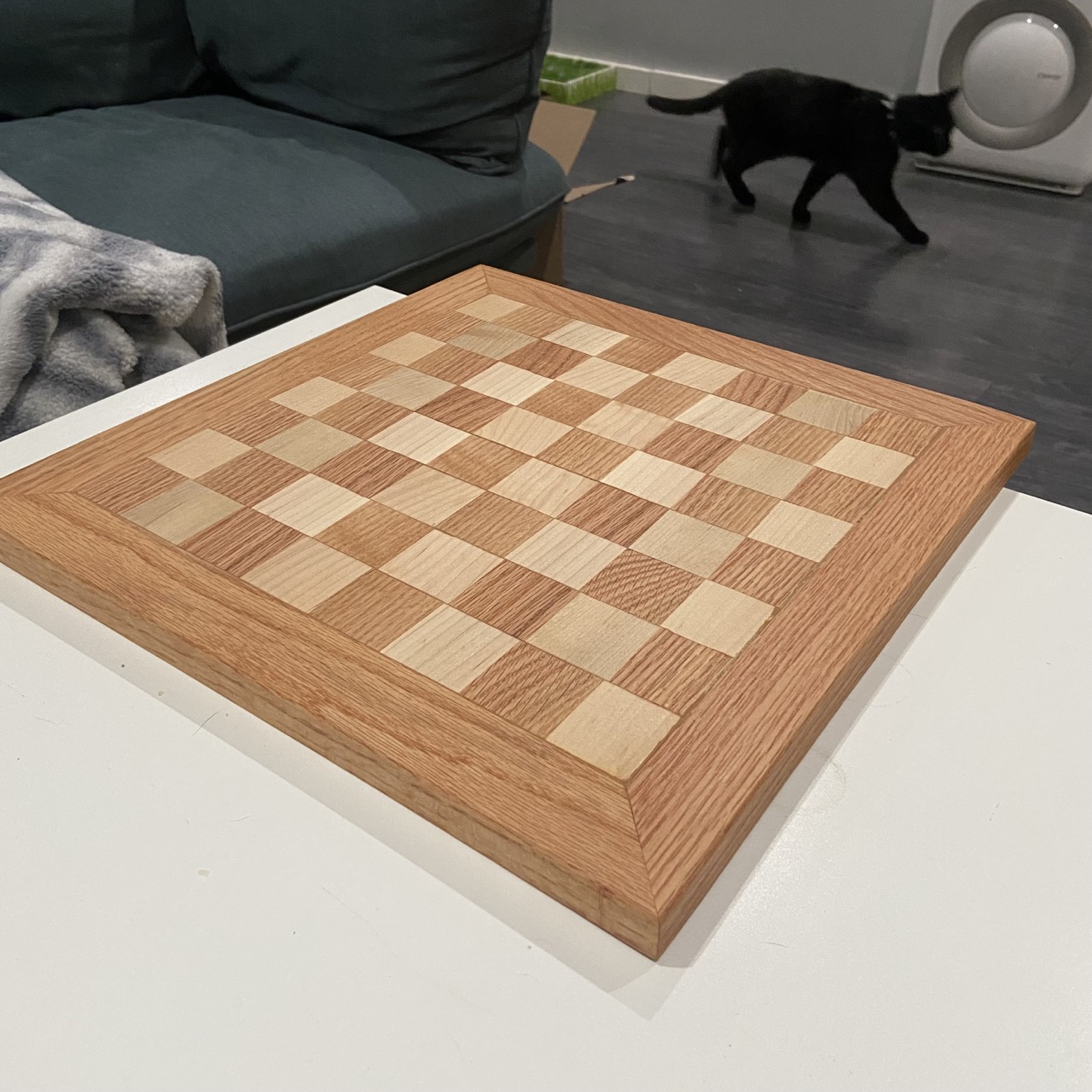 Learnings!
This overall construction approach of thin hardwood laminated on plywood totally works
How to get better at cutting miters by hand
More practice with a hand plane
That I need to get muuuuuuuch better at cutting straight by hand, or otherwise wait until I get a table saw, before I ever attempt making a chess board or anything else as dependent on straight cuts and 90° angles for someone other than myself
First attempt at using a router for anything (in this case the tiniest chamfer on the top edge)
Keep an eye on the colors of the wood you're using, especially the maple in this case, to avoid the mix and match between strips of really pretty light maple and uglier grayish ones.
This is "in use", in that we have it around the house, but don't have chess pieces for it yet.
Guitar - TS1 (aka "Self-Titled")
First time building a guitar! I'm calling this Telecaster-style build the "TS1", or "Self-titled." The neck is pre-made with a half-paddle headstock that I cut to final shape, from Solo Guitars. The body is poplar, with a white acrylic binding, with the shape based off an existing Squier Telecaster I've had for roughly four thousand years. It's finished in hardware-store acrylic enamel spray paint, which looks okay at a distance but ehhhhhh up close. The pickups are both from Tonerider: the neck is an Alnico IV Classic humbucker and the bridge is a Vintage Plus single-coil Telecaster style, wired in with a 3-way switch and 500k volume and tone pots. Most of the hadrware is all from Allparts.
It sounds nice! I particularly like it in the middle position (the neck is perhaps too boomy for my taste, but it plays very nicely with the bridge.) The volume knob makes it clean up a lot just going from like 10 to 9, and it seems to sound at its best when strummed aggressively; I feel like this is going to be a very fun rhythm guitar.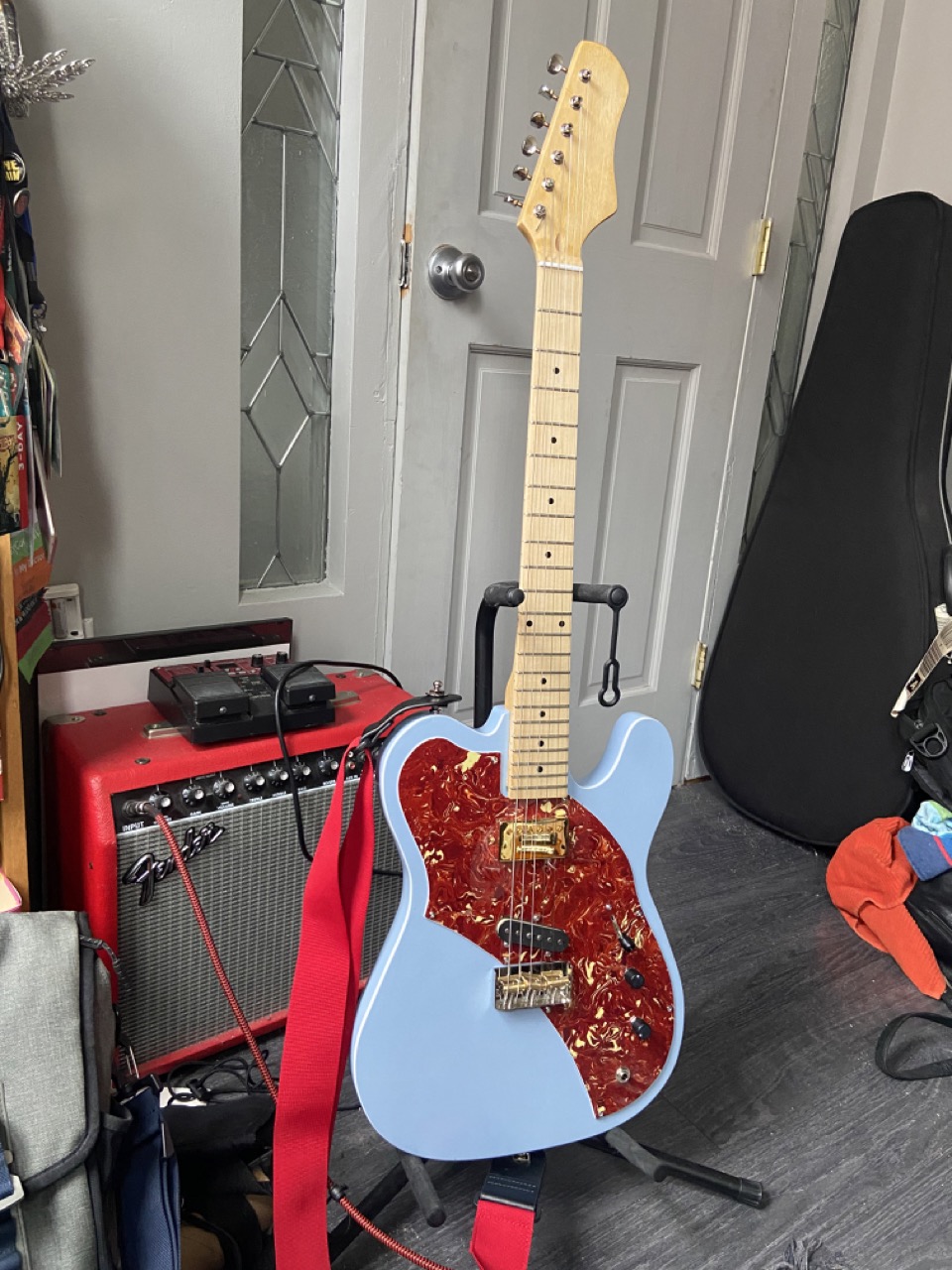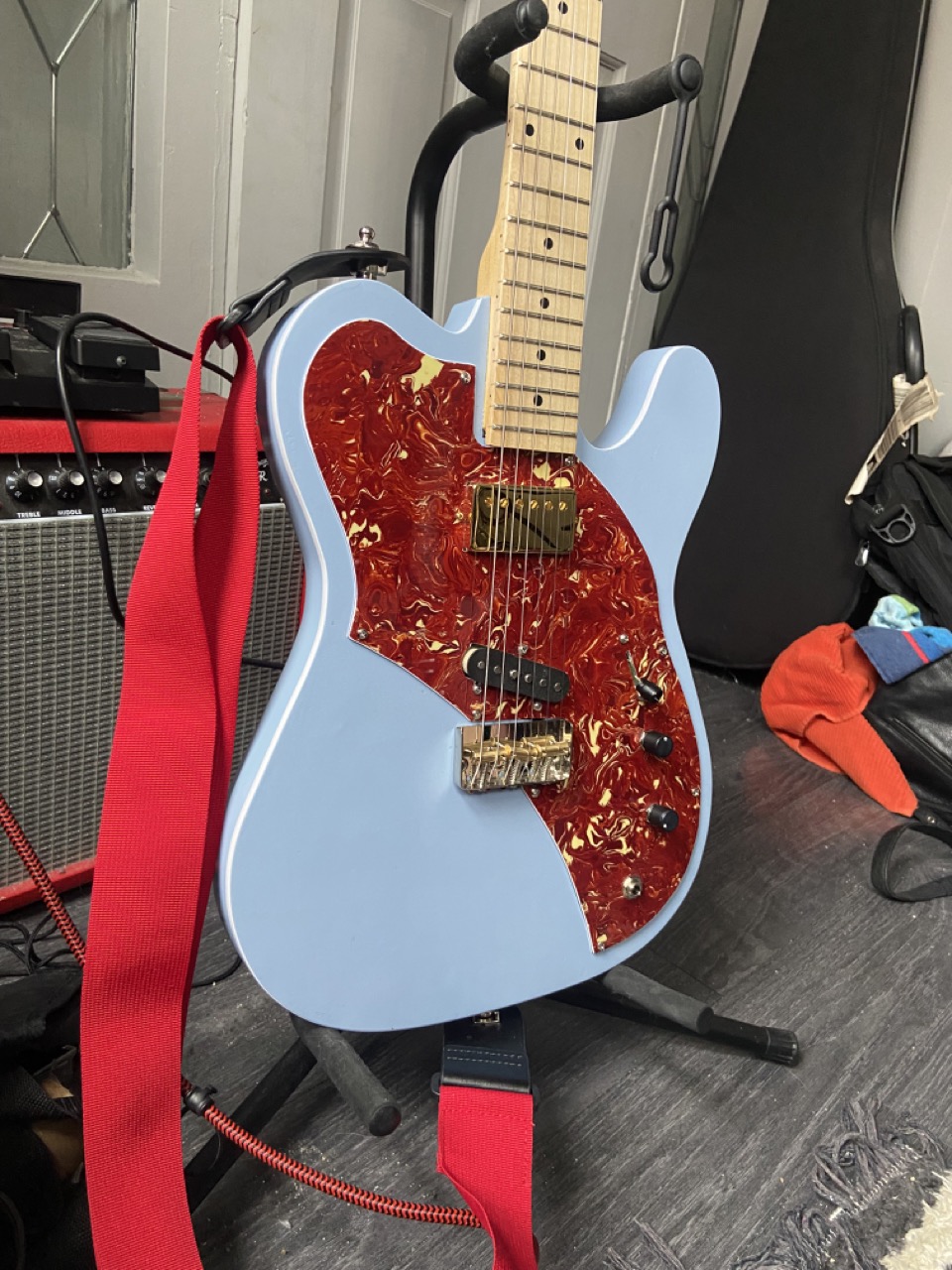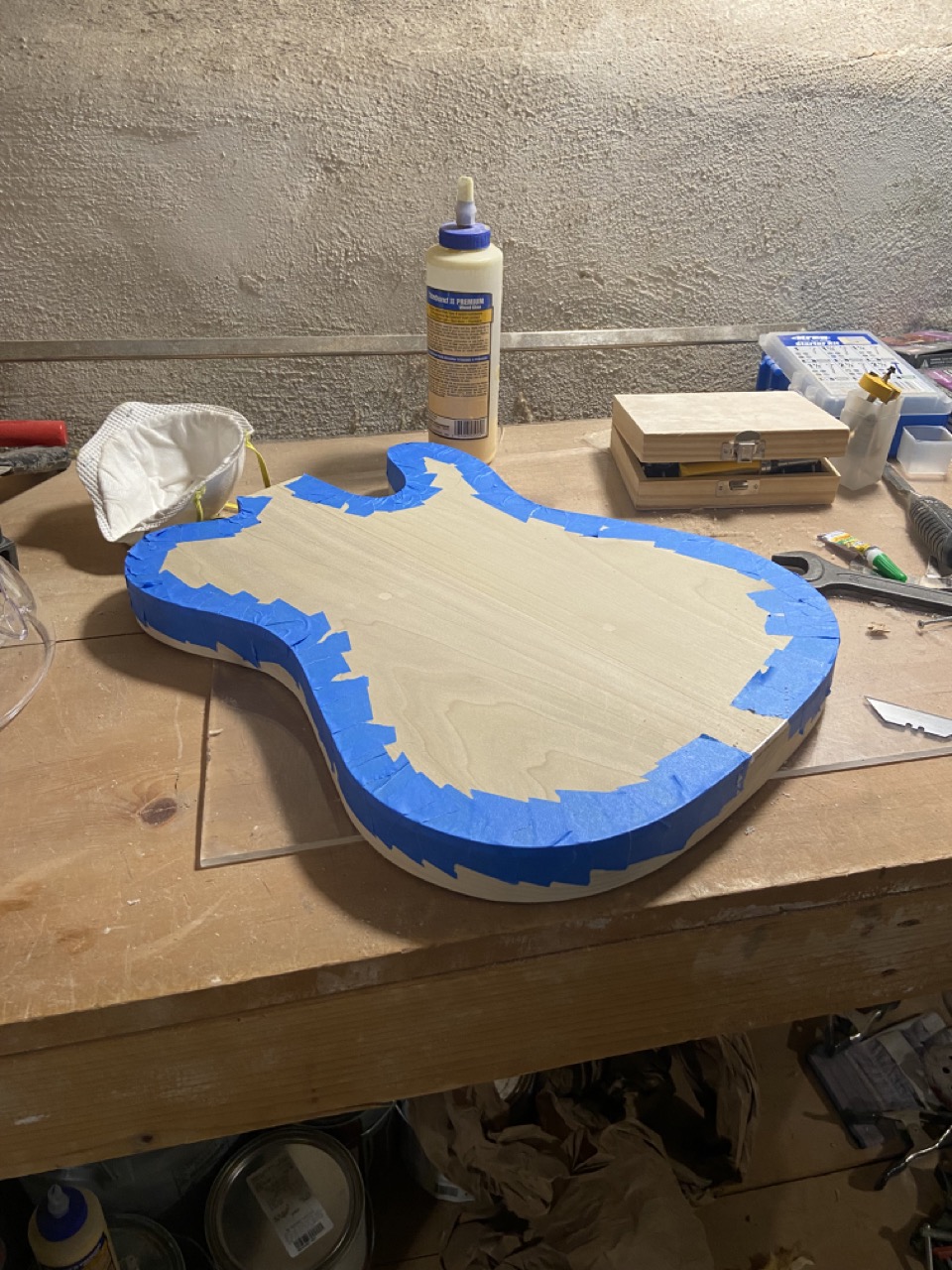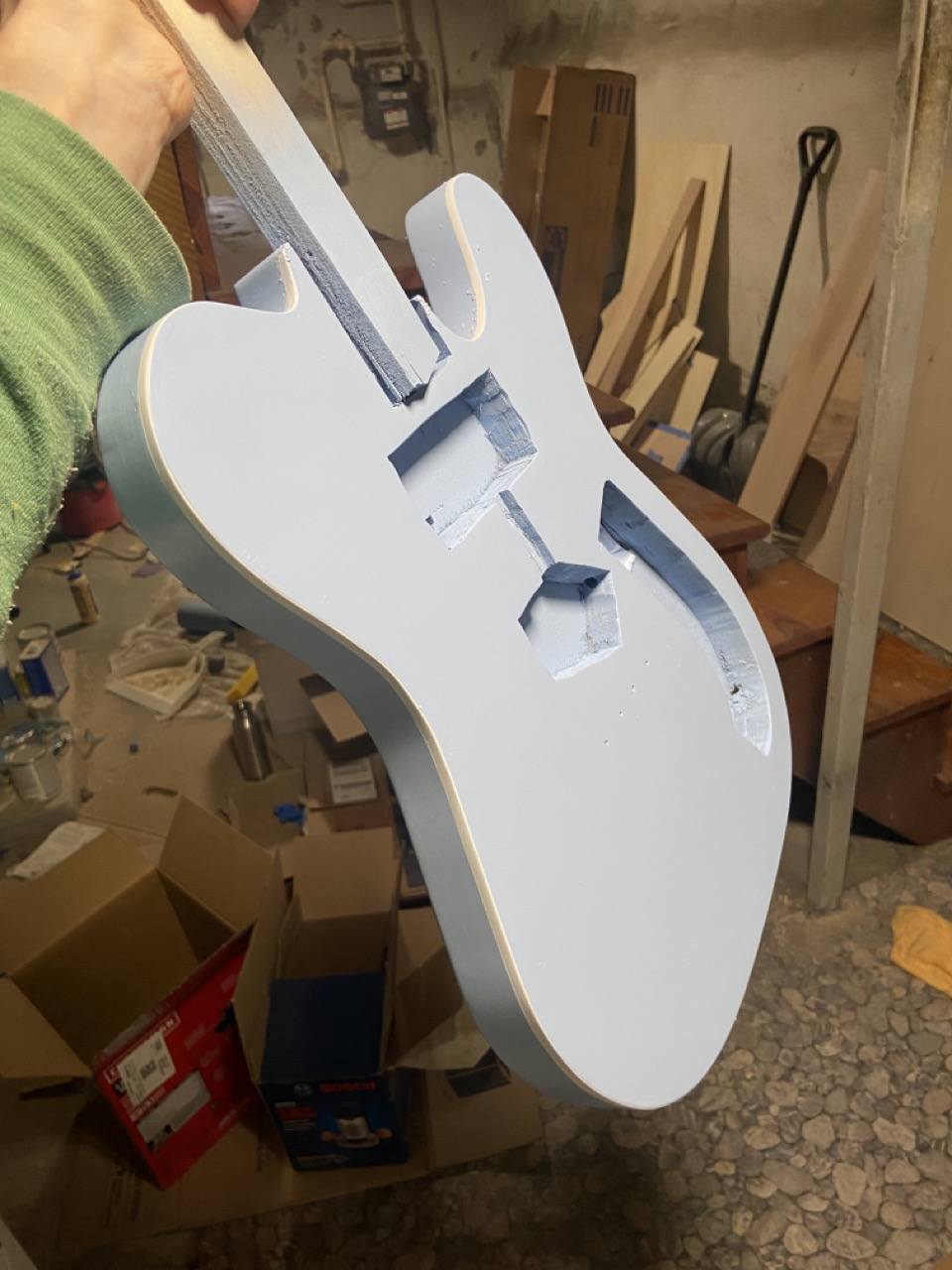 Learnings:
How an electric guitar is built!
How to apply binding to an electric guitar (super glue works great!)
How to recover from routing too deep a rabbet for your binding (just flush trim route the rest of the edge of the body to compensate!)
That you should double-check bridge alignment after mounting the neck and before drilling any screw holes, in that I mounted the bridge based on the original center line and then mounted the neck and realized the neck pocket was off, and now the bridge was out of alignment (and so I had to re-drill and re-mount the bridge.)
How electric guitar wiring works, and specifically how to do an HS (humbucker neck/single-coil bridge) 3-way switch/single volume/single tone knob wiring
How to solder
That there are different kinds of guitar output jacks for stereo vs mono, but fortunately it (seems like) accidentally using the stereo one but wiring it for mono works fine 🤞
The overall process for finishing an electric guitar
That shellac seems to work okay as a sealer/grain filler
To take seriously the timing listed on any paint can, specifically if it says "apply additional coats within X hours or after Y hours" to not try and touch up or repaint within that X to Y timeframe, or else it'll react badly
That I provisionally don't love acrylic enamel; looks-wise it's fine (particularly since I greatly prefer a more matte look than a high-gloss factory guitar sheen) but the actual finish is softer than I'd like. However, this is provisional since I want to see how it cures over weeks and months vs days.
In future guitars I can go lighter on the color coat and heavier on the clear coat
I don't know how yet, but I need to get better at aligning screw holes and mounting points for things like pickups
Not all tuning pegs are sized for all (pre-made) tuning peg holes (in that the tuning pegs I bought are smaller and expect to be closer together than what's on the neck; whether this is An Actual Thing To Know, or just a margin of error thing on the part of the neck manafucturer, unclear!)
Guitar 2 - Original offset design (aka "The failure")
Second guitar! This is a partial failure, in that it is my first guitar built entirely (minus the electronics) from scratch, including the neck and..... it shows. It's more or less playable below the 12th fret, but a complete mess above. The body is an original offset design made from maple plywood finished with water-based polyurethane, and the neck is all maple. It has a single Bareknuckle "The Boss" bridge pickup (kinda Esquire-inspired design for the guitar, but with just a single volume and tone rather than the Esquire switch wiring.)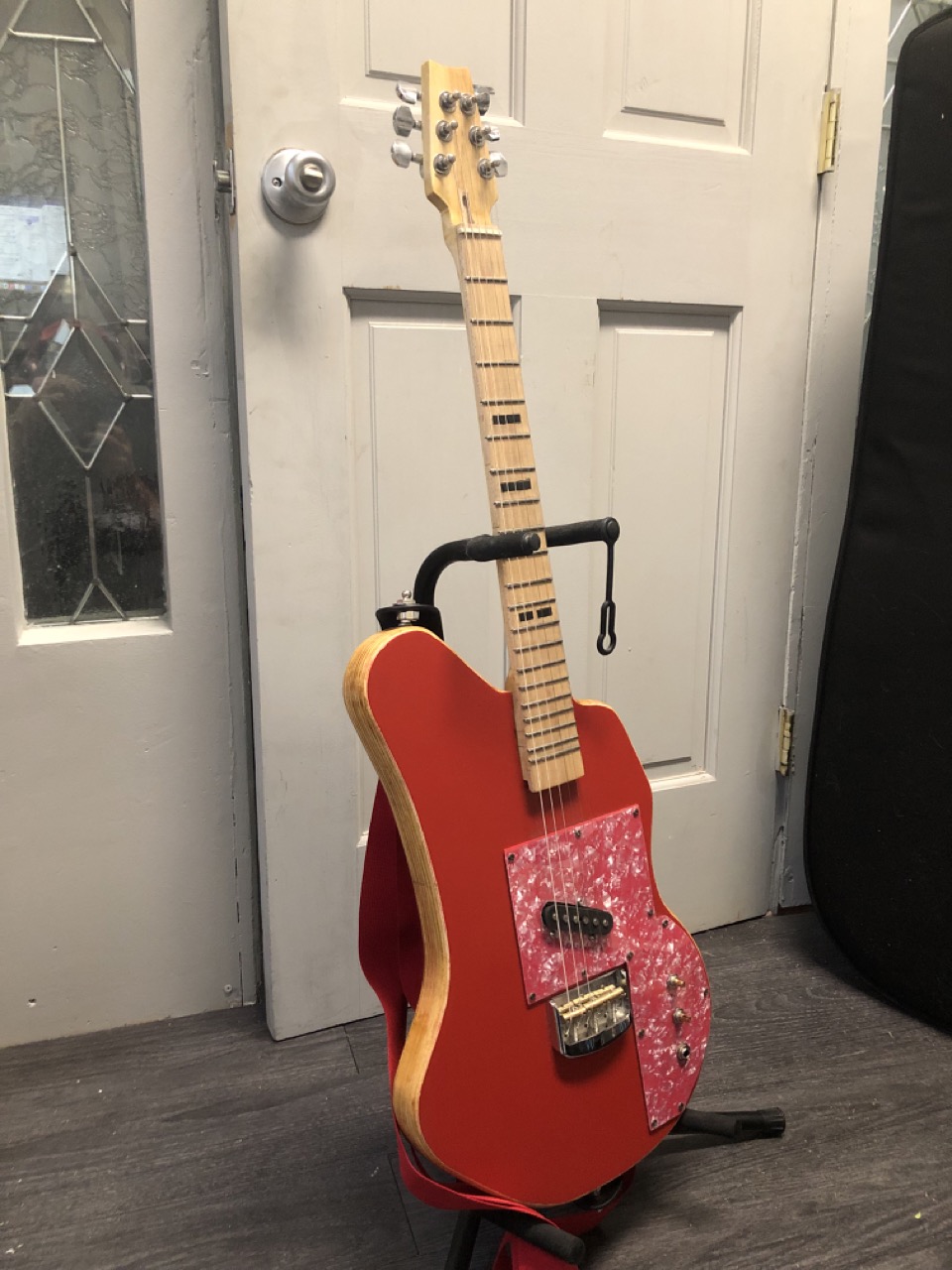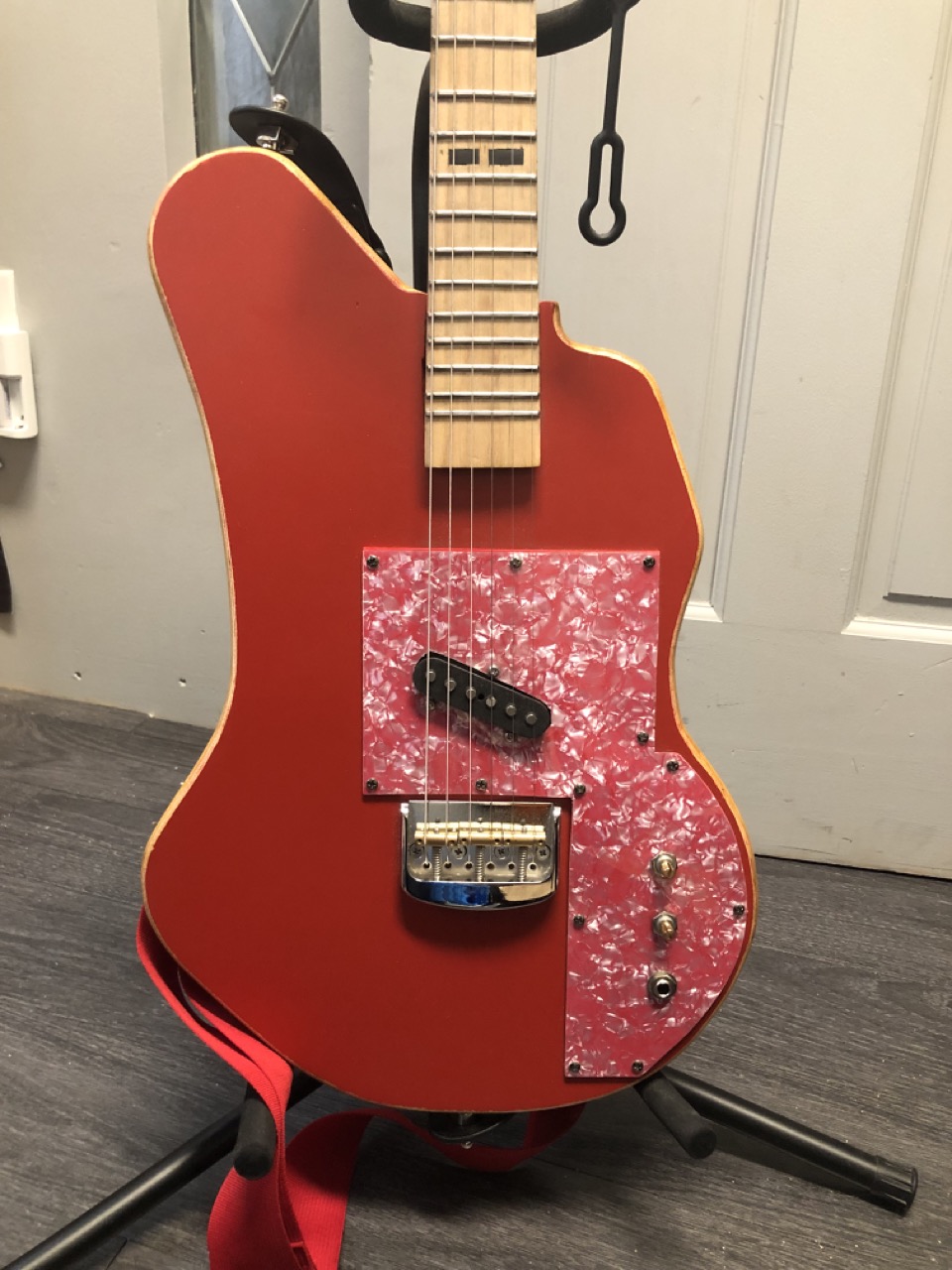 Learnings!
First time attempting to design a guitar body from scratch; kinda works!
That I like using plywood for guitar bodies (it's very light!)
How to (poorly) build a guitar neck, specifically a one-piece neck
How to (poorly) install and dress guitar frets
That I greatly greatly prefer polyurethane finishes to acrylic enamel
That if you don't want grain showing through painting on a plywood body you absolutely need a real grain filler
Short-scale Gibson Ripper Bass (aka the "Carroll Street")
This is the first one I can legitimately call "good." One of my favorite bands of all time is the excellent Chicago pop-punk band Pet Symmetry, and one thing I love about them is how loud and clean and gnarly their bass tone is. And from googling, that seems in significant part due to Evan Weiss' use of a Gibson Ripper, a weirdo bass from the 1970s and 80s with unique gnarly pickups. In the years since I started getting into Pet Sym, prices for used Rippers have gone from ~$900-$1200, to ~$2700-$3000, which !!!!!! Also, it turns out Seymour Duncan's custom shop makes reproductions of those original Ripper pickups. And also also Rippers, being giant and made of solid maple, are allegedly really heavy. So all of that, plus the fact I like playing short-scale basses more than full-scale anyway, I decided to try and make my own short-scale version of the Ripper!
the original ripper
It's 30" scale length and all maple (maple body, maple neck, maple fretboard) finished with water-based polyurethane. Pickups are the aforementioned Seymour Duncan Custom Shop Ripper reproductions, wired with a modified 4-way switch: the original Ripper is wired with (not sure if this is the right order):
Bridge only
Bridge and neck in series
Bridge and neck in parallel
Bridge and neck out of phase
And this is wired with a relatively common mod that swaps the out of phase option for a Neck-only option.
The wiring isn't totally done, in that the third knob is supposed to be wired up to a mid-cut or "choke" filter, but I haven't done that yet, so it's just a vanity knob wired to nothing. But volume and tone are wired, and it plays!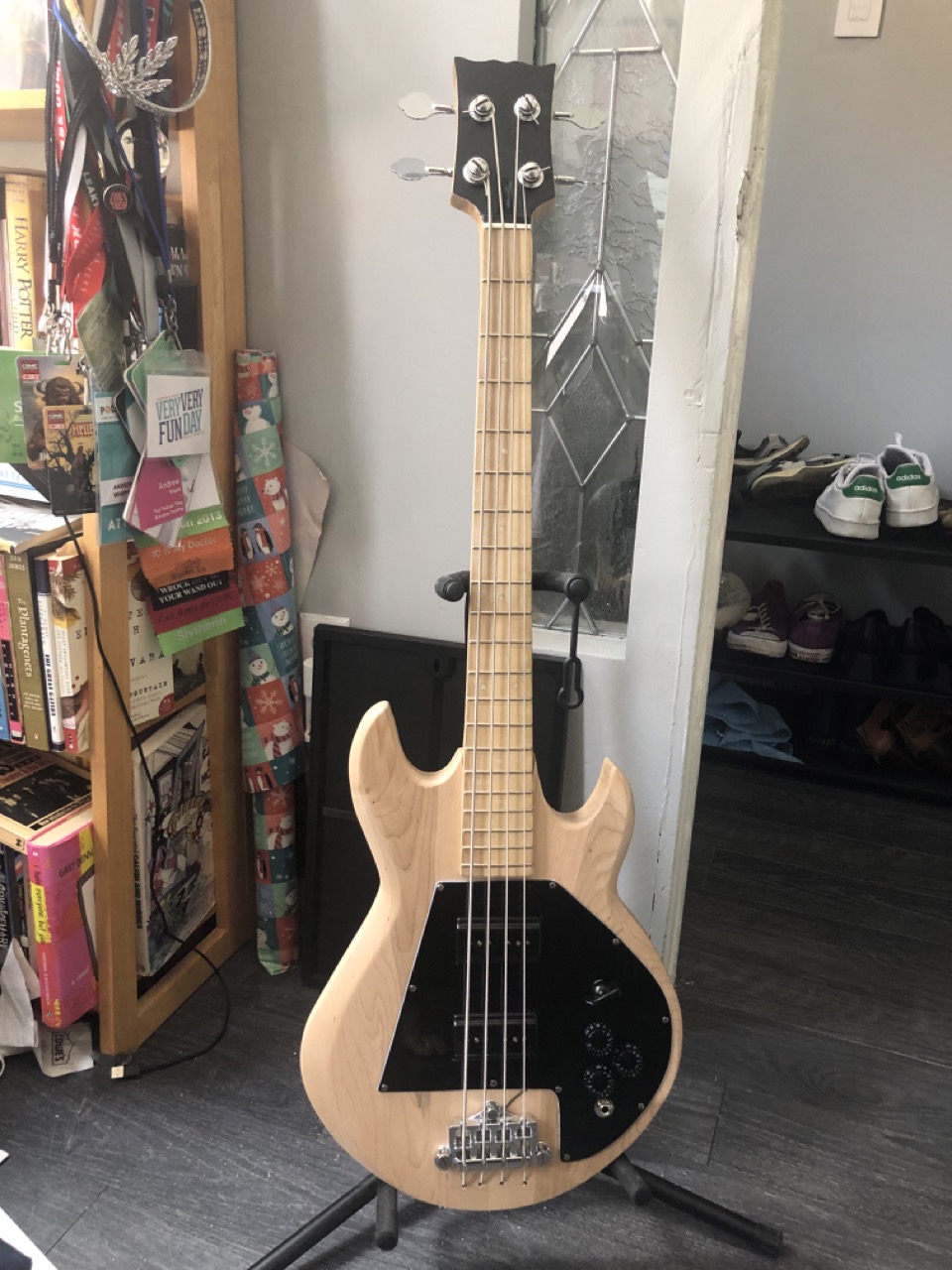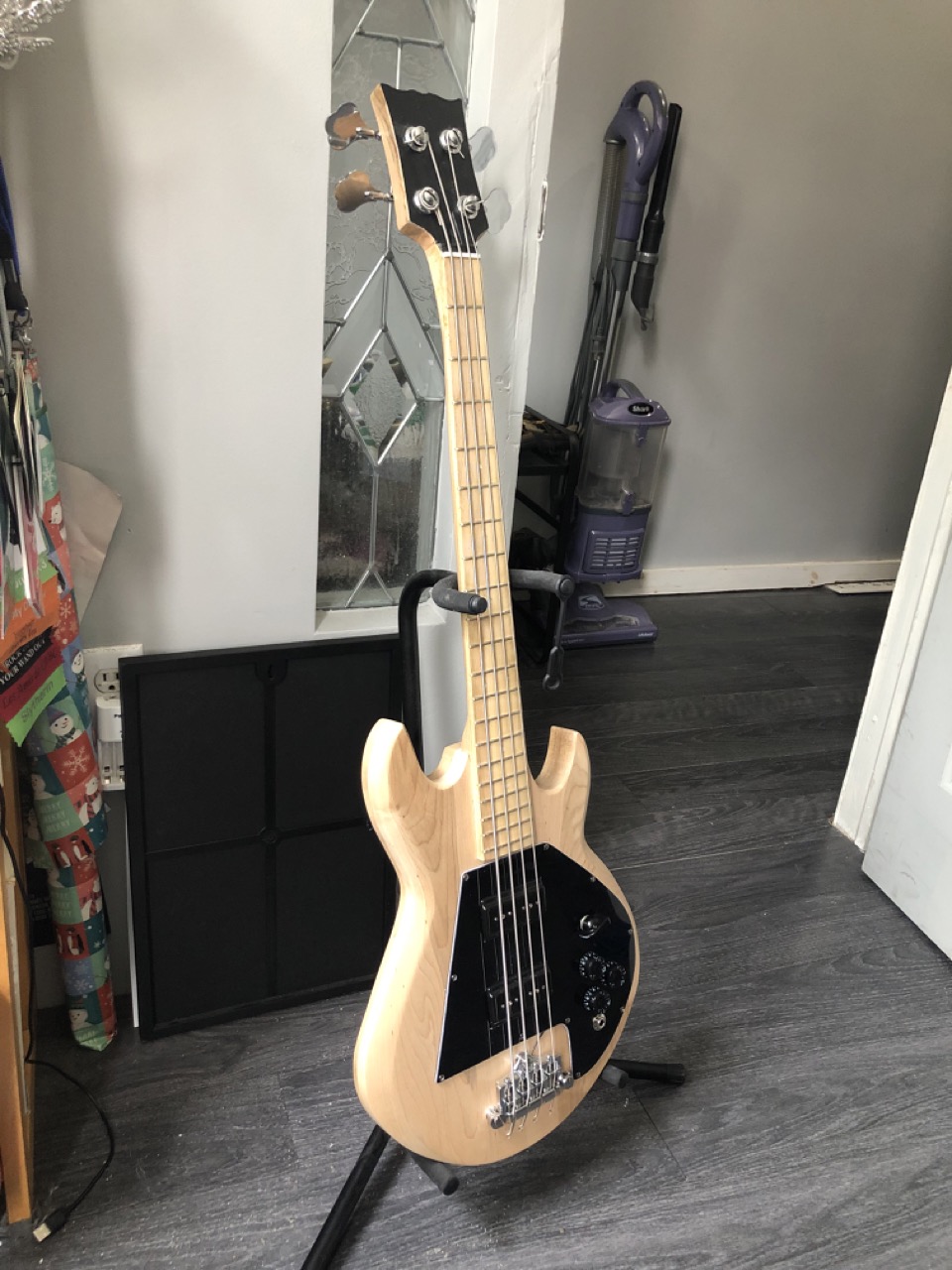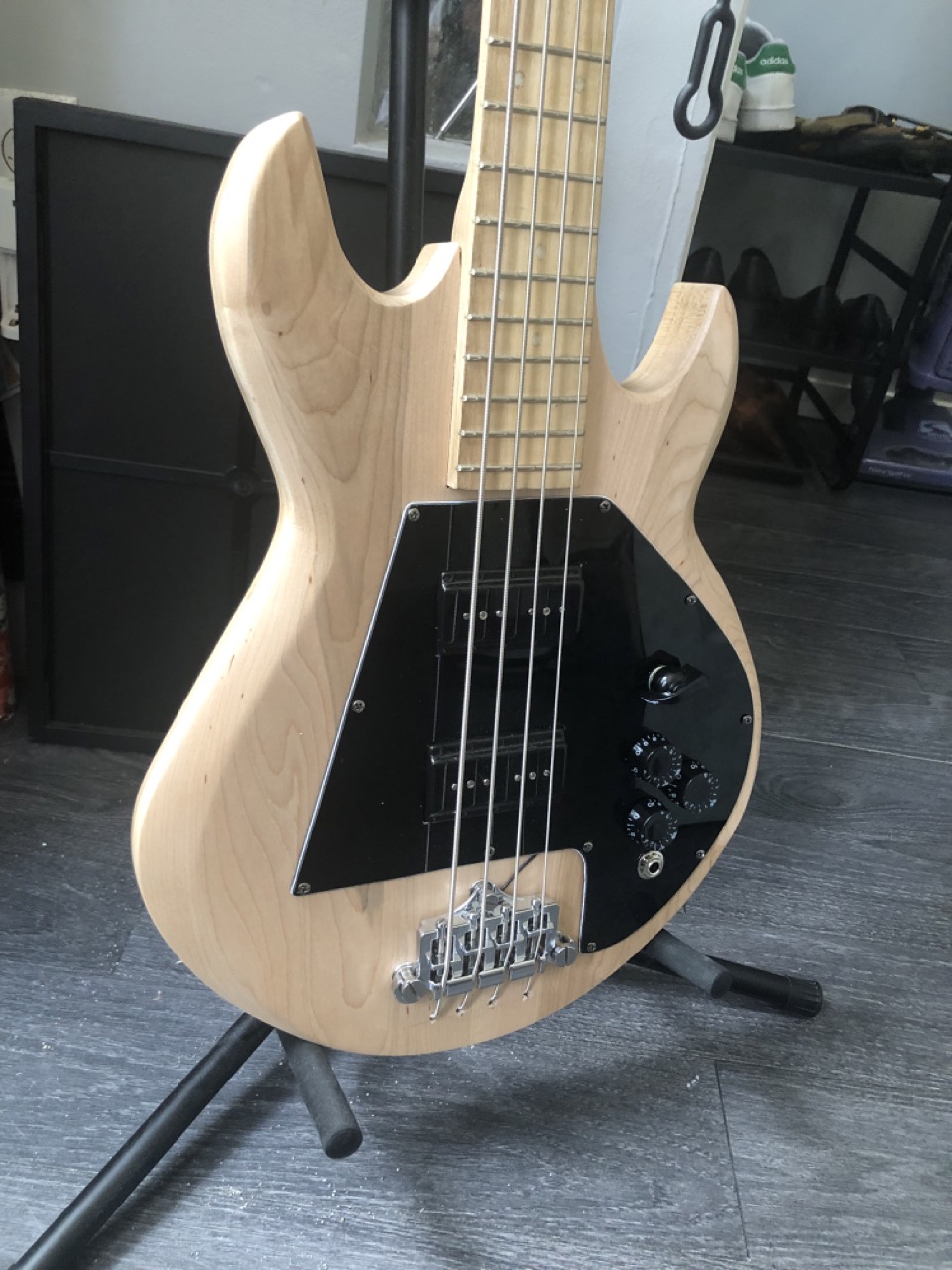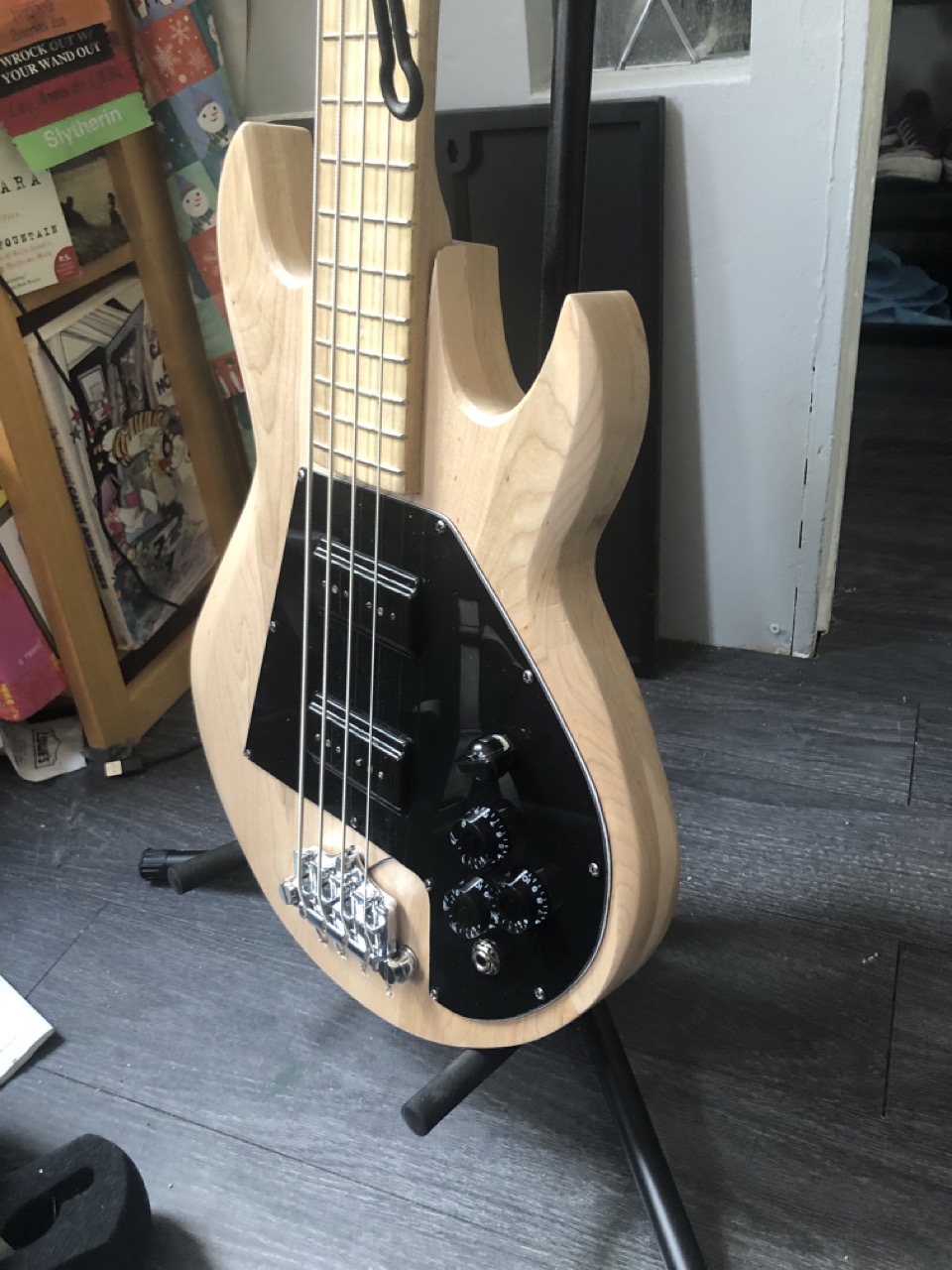 Learnings!
How to build a bass
How to do a carve on a guitar/bass body
How to wire a 4-way switch
How to scale specs for a full-size bass down to short-scale
How to do a scarf joint on a neck
How to do a much much much better job at installing and dressing frets
That I need a ground wire going from the bridge?? Somehow I missed that in the previous two builds?????
Recommendations
I've had a few people ask, whether out of curiosity, politeness, or a desire to learn themselves, how I got into woodworking and if I have any recommendations for learning. And like basically 100% of hobbies I have in adulthood, it spiraled out of mostly Youtube, with a year or two of watching videos from DIY and woodworking creators sparking a desire to try myself, and then further watching helping me learn skills, get inspiration for projects, and keep the desire to make stuff alive.
For me, these channels serve basically three purposes:
Entertainment (after all, I liked watching woodworking youtube for a long time before starting woodworking)
Inspiration (one channel in particular is pretty clearly my biggest design inspiration lol, you'll see when I get to it)
Education (learning specific skills! Tips! Tricks!)
All three of these will definitely vary depending on your own styles, preferences, and experience with woodworking. For me a channel might be fun, full of gorgeous designs I want to try, and teach me tons of valuable basics while you may find it grating, full of ugly designs you'd never be caught dead with, and not teaching you anything you didn't learn years ago.
With that, these are my personal favs, with the first two as my big "recommendations":